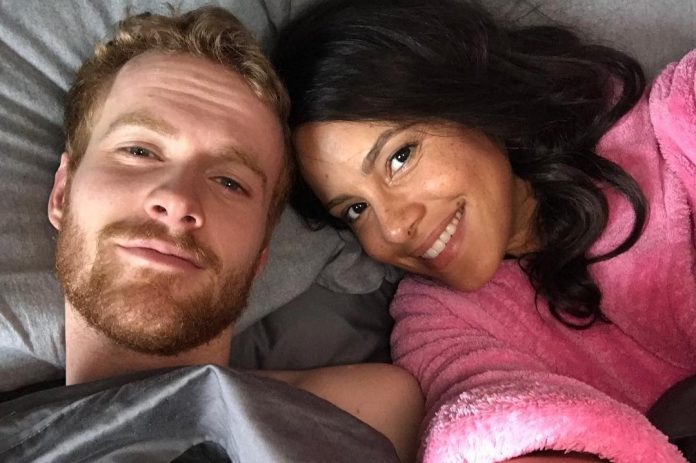 Harry and Meghan Lifetime Movie: A Royal Romance (TV Movie)
It seems like there's talk of the 'Royal Wedding' everywhere you turn lately, whether it be the news, radio, online and now there's going to be a Harry and Meghan Lifetime movie called A Royal Romance.
According to The Hollywood Reporter, the Harry and Meghan Lifetime movie will explore the couple's true love story from the time they met. It will also showcase the couple's very public debut as well as the continued attention and, in some cases, the scrutiny the couple has received since the announcement of their marriage.
The movie's IMDb page reveals that Parisa Fitz-Henley (Jessica Jones) is set to portray Meghan Markle, while Murray Fraser (The Loch) will depict Prince Harry. Trevor Lerner will play Tom Markle, Meghan's father, and Emmy award-winning director. Deadline.com announced that Bonnie Soper (Filthy Rich) will portray Princess Diana and Maggie Sullivun (Fargo) will portray Queen Elizabeth II.
Prince Harry and Meghan Markle met during a blind date back in July of 2016. Since then Meghan spent the majority of her time in Toronto while filming the popular USA Network TV series Suits; she played Rachel Zane since 2011. The pair would visit each other as often as possible, both in Toronto and in London, over the year following their first date before eventually their relationship was made public. Their first public appearance took place during the Invictus Games in Toronto late last summer before their engagement was finally revealed on November 27th. The pair have set a date of May 19th for the Royal Wedding itself.
Given that there will almost certainly be some depiction of the Toronto area in the Harry and Meghan movie, it's an interesting choice that Lifetime made to film in Vancouver instead. Although Lifetime films a large portion of its content in BC, it seems like it would have made things simpler to film in Toronto.
Nonetheless, thanks to @blackstingers, we know some of the Vancouver locations for the Harry and Meghan Lifetime movie. On February 13th, the movie will film inside the luxurious and historic Fairmont Hotel Vancouver. Interestingly, the Royal Family is well known for staying at the Fairmont Royal York, a similar looking historic hotel under the same brand in Toronto.
On February 14th, the movie will move across the street to film a scene of people arriving for a red carpet event at the North Plaza of the Vancouver Art Gallery. Later in the day, they'll move to Rosewood Hotel Georgia to film inside the Prohibition Bar.
@WhatsFilming Saw this posted at Royal Centre. Harry and Meghan project filming on Feb 13 and 14 at Fairmont & Art Gallery pic.twitter.com/J1mLWNHWXy

— Queenbeebuzz (@blackstingers) February 8, 2018
As more locations are spotted, they'll be added to our Current Filming Locations Page as well as our Filming Locations Archive.
Parisa shared a first look of herself as Meghan Markle alongside Murray Fraser as Prince Harry:
Harry and Meghan: A Royal Romance will continue filming in Vancouver and British Columbia until March 9th.
For a full list of what's filming in Vancouver and British Columbia right now, check out our In Production page.
Wrapping Up This Week
The Sweetest Heart (aka Heart's Desire) (TV Movie) with Julie Gonzalo, Chris McNally, Tammy Gillis, Andrea Brooks, Clayton Chitty, Catherine Lough Haggquist and Jordan Burtchett wrapped up February 5th
No One Would Tell (TV Movie) with Matreya Scarrwener, Callan Potter, Sarah Grey, Louriza Tronco, Avery Konrad, Shannen Doherty and Chanelle Peloso wraps up today
Garage Sale Mystery: The Pandora's Box Murders (TV Movie) with Lori Loughlin, Antonio Cupo, Lochlyn Munro, Lane Edwards, Sarah Strange, Kevin O'Grady, Agnes Tong and Bola Omodara wraps up today
If you see any of these productions, including the Harry and Meghan Lifetime movie filming in Vancouver and British Columbia, be sure to let us know by tweeting us (@WhatsFilming) or via our Submit a Location page.