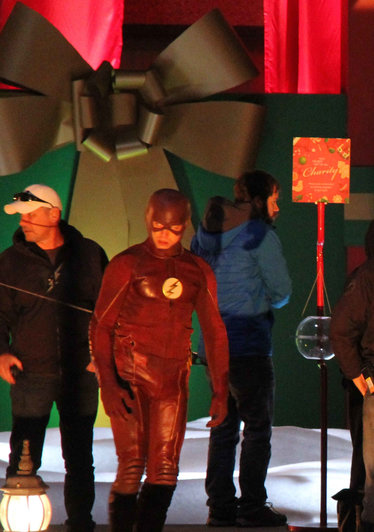 The Flash transformed Vancouver's Robson Square into a Christmas theme for filming last night. The elaborate set grabbed the attention of everyone walking down busy Robson Street the last couple of the days and has many of us wondering why Vancouver doesn't deck out Robson Square like that at Christmas – for real!
One of the scenes filmed last night (*moderate spoiler alert – beware!) featured the speedster and The Weather Wizard (played by Liam McIntyre). During the confrontation The Weather Wizard, with wand-in-hand, sends The Flash flying backwards onto the ground.
Here's some pictures from The Flash Filming Christmas in Central City:

Photos appear courtesy of Melissa Kathleen Photography.
Looking forward to seeing this one come to life on-screen! Be sure to check out The Flash on Tuesdays at 8pm on CTV (or CW in the US).