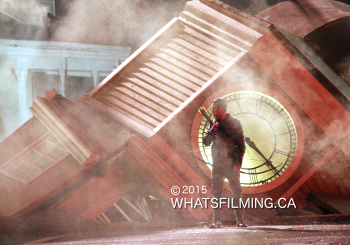 To say that Storybrooke has seen better days would be an understatement. Yesterday Once Upon a Time returned to Steveston to film scenes for their 100th episode, titled "Souls of the Departed". We'll have to wait until March 6, 2016 to see… but in the meantime, check out some pictures from the filming below.
In addition to the usual fine tuning of Steveston's Moncton Street into Storybrooke's Main Street, Once Upon a Time's set decoration department did a wonderful job making the town look a victim of some some dark magic gone horribly wrong. In particular, the fallen Storybrooke clock tower set piece was incredibly well done. Typically this portion of the library is added to the building with CGI but to make the destruction even more realistic it was built in full for the filming.
According to crew, the clock was built off-site then brought to Steveston in 2 separate deliveries. From there teams spent the over 3 hours perfecting the piece in preparation for the scene.
While I was at the set, scenes were being filmed featuring Snow, Charming, Robin Hood, Henry, Rumple, Regina and Emma. I was happy that Emma was back to her typical red leather jacket and was generally looking much less 'dark'.
Cruella's iconic 'DEV IL' car also made an appearance.
Here's some pictures from the Once Upon a Time filming in Steveston last night:
See also:
Once Upon a Time's 100th episode airs Sunday, March 6th at 8pm.