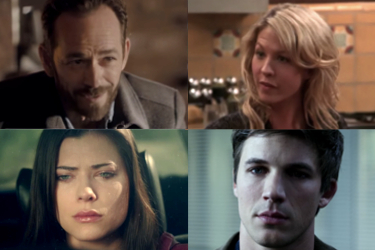 2016 is another busy TV pilot season for Vancouver with Imaginary Mary, Powerless, Legion, Time, Frequency, Riverdale, Miranda's Rights and Crushed all filming around the area. Below we give a brief overview of each pilot including the key cast and some of the locations they've used already.
Imaginary Mary aka Imaginary Friend
Update: Picked up for a series order via Deadline.
Vancouver's TV pilot season officially kicked off with ABC's comedy pilot tentatively titled Imaginary Mary (aka Imaginary Friend). Imaginary Mary is written by Adam F. Goldberg (creator/executive producer of The Goldbergs) and David Guarascio (executive producer of The Goldbergs). The show centres around Alice, a single woman in her 30's played by Jenna Elfman (Dharma & Greg). Ironically, Alice is a relationship expert whose had nothing but a struggle in her own love life. That is until she meets a single father played by Stephen Schneider (Broad City). Then, Alice's childhood imaginary friend named Mary comes back into her life offering a unique perspective on everything that is going on.
Imaginary Mary wrapped up on March 7th. Some of their locations included:
Pacific Central Station
East Georgia Street, Chinatown
The Bourbon
Brix & Mortar
Studio Records
Kensington Place
Check out the official Imaginary Mary trailer here:

Powerless
Update: Picked up for a series order via Entertainment Weekly.
It's no secret that Vancouver has become the home to most comic book based TV series currently on TV. Powerless is the latest offering from the NBC and the DC universe but it takes a slightly different spin than the other DC shows filmed in Vancouver. Powerless is a 30 minute workplace comedy that sounds like it will have a similar feel to Supergirl. The show revolves around Emily Locke who is played by Vanessa Hudgens (High School Musical). Emily and her colleagues are a group of 9-5 office workers in the insurance business. They're just regular people who, may not have superpowers, but find power within themselves while helping others. Other notable cast include: Dany Pudi (Community) as Teddy, Alan Tudyk (I, Robot) as Del and Christina Kirk (Along Came Polly) Jackie.
Production of Powerless kicked off in downtown Vancouver near Jack Poole Plaza on Sunday, March 6th. A female superhero rumoured to be Crimson Fox was the centre of attention. Since then, they've spent a lot of time at a temporary studio that is setup in the Tilbury area of Delta as well as Surrey Athletic Park. Powerless is scheduled to wrap up on March 18th. Look for former Lucifer signs 'LUX' to spot them filming.
Check out the trailer for Powerless here:

Legion aka Clubhouse
Update: Picked up for a series order via The Hollywood Reporter.
Update: Legion Season 1 starts filming in Vancouver August 15th through November 2nd.
Legion is another comic book based TV pilot, this time based in Marvel's X-Men universe. The story follows David, the son of X-Men founder Professor Charles Xavier. David was born a mutant but spent his life believing he had a mental illness in the form of voices inside his head. He eventually begins to learn that the voices he hears may actually be real and they each contribute to his many mutant abilities. David is played by Downtown Abbey star Dan Stevens. Alongside him will be Rachel Keller (Fargo) as Syd, Jean Smart (Fargo) as Melanie, Aubrey Plaza (Parks and Recreation) as Lenny and Katie Aselton (The League) as Amy.
The pilot was written by Fargo creator Noah Hawley who will also serve as Director and Executive Producer. Interestingly, Bryan Singer, director of the X-Men movie series will also be Executive Producer for the TV pilot.
So far, Legion has been spotted filming at BCIT's Burnaby Campus and a temporary studio off 11th Avenue in Burnaby. Legion is scheduled to continue filming in Vancouver and area until April 4th. Look for signs "DAVE" to spot them filming.
Timeless aka Time
Update: Picked up for a series order by NBC via Deadline.
Supernatural creator Eric Kripke and The Shield creator Shawn Ryan have joined forces to write an action drama TV pilot called Timeless which was picked up by NBC. The story follows a group assembled by the government who will time travel to prevent criminals from altering the timeline and destroying the world as we know it today. Two of the time travellers will be played by series leads Matt Lanter (90210) and Abigail Spencer (Suits, Rectify). Other notable cast are Paterson Joseph (Peep Show), Malcolm Barrett (The Hurt Locker), Shantel VanSanten (One Tree Hill). Shantel is no stranger to filming in Vancouver after filming several episodes of The Flash over the past year. She also filmed scenes for Shooter, a series with Ryan Phillippe which filmed its pilot in Vancouver last year and has since been picked up and will shoot in Los Angeles.
Neil Marshall will direct the pilot. He is best known for directing the Emmy nominated Game of Thrones episode "The Watchers on the Wall".
Timeless will air this fall on NBC, check out the official trailer here:

A couple of scenes in the trailer are instantly recognizable including the Hindenburg disaster scenes filmed at Boundary Bay Airport in Delta where they spent the first 3 days of production. Alexander Street in Gastown was transformed into the 1930s for scenes which appear in the trailer as well. Here's a pic we took of the street that day:
Frequency
Update: Picked up for a series order via The Hollywood Reporter.
Update: Frequency Season 1 starts filming in Vancouver July 25th through December 13th.
Frequency is CW's paranormal drama written by Supernatural showrunner Jeremy Carver and based on the feature film of the same name released in 2000. The TV reboot will focus on Frank Sullivan (played by Riley Smith) and his daughter Raimy (played by Peyton List). Frank is an undercover detective who died in 1996 while his daughter, who is also a detective, is in present day. Despite this, the two are able to work together by communicating over a ham radio as they attempt to investigate an unsolved murder. Other notable cast includes Mekhi Phifer (8 Mile, ER) who plays Satch, Anthony Ruivivar (Tropic Thunder, American Horror Story) who plays Stan, Devin Kelley (Resurrection) who plays Julie and Daniel Bonjour (The Walking Dead) who plays Daniel Badour.
The Frequency TV pilot will be directed by Brad Anderson and executive produced by Jeremy Carver, Jennifer Gwartz, John Rickard, Dan Lin and original story writer Toby Emmerich. Frequency is scheduled to continue filming in British Columbia until April 1st. Look for signs "1996 FILMS" to spot them filming.
Check out the official trailer/first look for Frequency that was screened at the CW Upfonts on May 19th:

Some of the filming locations used during the pilot include Boulevard Kitchen & Oyster Bar, 5681-176th Street in Cloverdale (near the Firehall) and downtown New Westminster.
Frequency will air following Arrow at 9pm Wednesdays starting this fall on the CW.
Riverdale
Update: Picked up for a series order via The Hollywood Reporter. Will film in Vancouver via @pursuit23.
Riverdale is a CW TV pilot from producer Greg Berlanti, showrunner of the Vancouver lensed comic book based shows Arrow, The Flash and Legends of Tomorrow. Riverdale is the infamous small town with more to it than meets the eye from the popular comic book series Archie. Although Riverdale may appear wholesome on the surface, it has a strange dark side to it. The series will focus on the core group of friends made famous by the comic book series as they explore what Riverdale is really all about. Josie and the Pussycats, the all-female band from the Archie comics will also appear in the pilot.
Since Riverdale has a pretty large cast already announced, here's an overview:
| Actor | Role | You may know them from |
| --- | --- | --- |
| Cole Sprouse | Jughead Jones | The Suite Life of Zack and Cody |
| Luke Perry | Fred Andrews | Beverly Hills 90210, Ties That Bind |
| Lili Reinhart | Betty Cooper | The Kings of Summer, Surviving Jack |
| K.J. Apa | Archie Andrews | Shortland Street |
| Madelaine Petsch | Cheryl Blossom | Instant Mom, The Curse of Sleeping Beauty |
| Mädchen Amick | Alice Cooper | Twin Peaks, Witches of the East End, American Horror Story |
| Marisol Nichols | Hermione Lodge | Teen Wolf, GCB |
| Ross Butler | Reggie Mantle | K.C. Undercover, Hacker's Game, Perfect High |
| Asha Bromfield | Melody | Max and Shred, Dead on Campus |
| Ashleigh Murray | Josie McCoy | Younger |
| Casey Cott | Kevin Keller | |
| Cody Kearsley | Moose Mason | |
| Camila Mendes | Veronica | Randy Doe |
| Caitlin Mitchell-Markovitch | Ginger Lopez | |
| Olivia Ryan Stern | Tina Patel | Liar Liar Vampire, Mostly Ghostly 3: One Night in Doom House |
The TV pilot was spotted filming a football scene with explosions in the background on the sports field beside Point Grey Secondary School in Kerrisdale. Other locations included:
300 Block West Pender Street (Vancouver)
Fort Langley
Golden Ears Provincial Park (Maple Ridge)
John Oliver Secondary School (Vancouver)
Mountain View Cemetery (Vancouver)
Rocko's Family Diner (Mission)
Burnaby Mountain Secondary School (Burnaby)
Riverdale wrapped up filming in Vancouver and area March 31st and will premeire on the CW as part of their midseason lineup starting in early 2017.
Miranda's Rights
Miranda's Rights is NBC's legal drama that follows a group of young lawyers who work AND live together at their start up law firm called "Young Law Group". Notable cast includes Rebecca Breeds (Pretty Little Liars, The Originals), Jamie Chung (Once Upon a Time, Big Hero 6), John Gabriel (Blind Turn, The Divergent Series: Allegiant – Part 1), Monique Coleman (High School Musical) and Noel Fisher (Teenage Mutant Ninja Turtles).
.
Miranda's Rights is scheduled to film in Vancouver and area from March 26th to April 10th. Look for their signs "GEPMR" to spot them filming. They've got a temporary studio setup in the same location as the Powerless pilot in the Tilbury area of Delta.
Crushed
A late addition to the Vancouver pilot season after a move from North Carolina where it was originally intended to film. Crushed is a comedy from streaming giant Hulu and stars Bashir Salahuddin (Late Night With Jimmy Fallon) and Regina Hall (Scary Movie 4). It will be filming in the Vancouver area from May 16th to 26th.
If you see a TV pilot filming in Vancouver and British Columbia, be sure to let us know by tweeting us (@WhatsFilming) or via our Submit a Location page.