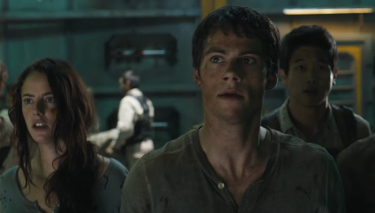 This week, Maze Runner: The Death Cure, 3 TV pilots and 1 TV movie start filming in British Columbia.
Maze Runner: The Death Cure (Feature) – Production Resumes May 9th
After filming the first two movies in the series in Louisiana and New Mexico respectively, Maze Runner: The Death Cure is set to begin filming in Cache Creek, British Columbia today. The area was chosen, in part, due to its desert-like appearance which will provide continuity between the films.
The movies are an adaptation of the best-selling novel series written by James Dashner. They take place in a futuristic world and are centred around Thomas (played by Dylan O'Brien) and his friends, the Gladers.
In the first movie, The Maze Runner (released in 2014), Thomas has his memory erased and was placed into a maze with only one way out. But no one has ever escaped. After defying the odds, Thomas and the Gladers escape the maze only to be faced with more impossible obstacles in The Scorch Trials (released in 2015). Thomas begins to uncover the truth behind the organization that is behind all their misfortune.
In Maze Runner: The Death Cure, Thomas and the Gladers battle the organization one last time in search of a cure that could save all of humanity. Although it's rumoured that this is the final film in the series, James Dashner has written 2 more novels which serve as prequels.
Here's a roundup of the cast of Maze Runner: The Death Cure according to the film's IMDb:

| Actor | Role | Other movies/shows you may know them from |
| --- | --- | --- |
| Dylan O'Brien | Thomas | Teen Wolf |
| Thomas Brodie-Sangster | Newt | Game of Thrones |
| Ki Hong Lee | Minho | The Stanford Prison Experiment |
| Dexter Darden | Frypan | Cadillac Records |
Although not posted to the film's IMDb page yet, it's expected that Kaya Scodelario (who played Teresa in the first two films) will appear for Maze Runner: The Death Cure. Kaya is also the female lead in the upcoming Pirates of the Caribbean: Dead Men Tell No Tales which is also scheduled to begin additional photography in Vancouver this month (March 28th).
Wes Ball, who directed the first two installments will also be returning for Maze Runner: The Death Cure.
Maze Runner: The Death Cure is scheduled to continue filming in British Columbia until June 3rd and is slated to be released in theatres on February 17th, 2017.
Update March 18th: James Dashner has announced via Twitter that production has been delayed as a result of an injury on set to lead actor Dylan O'Brien. See the tweet below. Our thoughts are with Dylan and we hope for a full recovery.
Production is postponed but certainly not cancelled. All that matters now is that Dylan recovers. We love you, Dylan!!!

— James Dashner (@jamesdashner) March 18, 2016
Update April 5th: In an interview with E! Online, Giancarlo Esposito stated that filming is set to resume on May 15th.
Update April 8th: Production is scheduled to resume on May 9th and wrap up on July 26th as published by the Director's Guild of Canada.
Update April 29th: According to an EW.com exclusive, production of The Death Cure will be facing a further delay before resuming. Not surprisingly, Dylan needs more time to recover fully from his serious accident before being in a position to continue his role.
In the meantime, if you haven't seen either of the first two movies, check out this trailer:

Also Starting This Week
Murder She Baked: The Fudge Cupcake Mystery (TV Movie)
Hallmark's adaptation of Joanne Fluke's Hannah Swensen Series continues with Murder She Baked: The Fudge Cupcake Mystery. The series stars Alison Sweeney (Days of Our Lives) as Hannah Swensen. In The Fudge Cupcake Mystery, Hannah discovers the town's sheriff is dead and she takes it upon herself to find out who the REAL murderer is. Murder She Baked: The Fudge Cupcake Mystery will be filming in British Columbia until April 1st.
Time (TV Pilot)
Cast: Matt Lanter, Abigail Spencer, Paterson Joseph, Malcolm Barrett
Filming until April 2nd
Frequency (TV Pilot)
Cast: Riley Smith, Peyton List
Filming until April 1st
Riverdale (TV Pilot)
Cast: Cole Sprouse, Luke Perry, Madelaine Petsch, Asha Bromfield, Camila Mendes, KJ APA, Lilli Reinhart, Ross Butler, Cody Kearsley, Ashleigh Murray, Casey Cott
Filming until March 31st
For a full list of everything that's filming in Vancouver and British Columbia right now, check out our In Production page.
Wrapping Up This Week
iZombie – Season 2 (TV Series) with Rose McIver, Robert Buckley, Rahul Kohli, Malcolm Goodwin, David Anders wraps up March 15th
A Time To Dance (TV Movie) with Jennie Garth wraps up March 18th
Powerless (TV Pilot) with Vanessa Hudgens wraps up March 18th
Aurora Teagarden 3: Three Bedrooms, One Corpse (TV Movie) with Candace Cameron Bure wraps up March 18th
If you see any of these productions, including Maze Runner: The Death Cure filming in Vancouver and British Columbia, be sure to let us know by tweeting us (@WhatsFilming) or via our Submit a Location page.