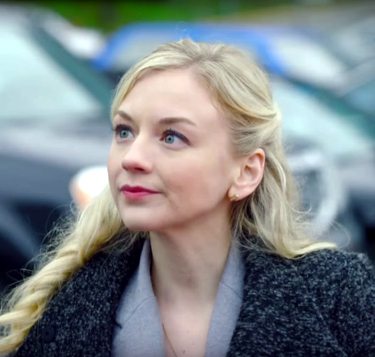 Love on the Sidelines with Emily Kinney of The Walking Dead filmed in Vancouver, Langley and Pitt Meadows this past October/November and premieres on the Hallmark Channel Saturday, January 16th at 9pm. Check out the the trailer for the film below.
The film is part of Hallmark's Winterfest original movie series which features a new movie released every Saturday throughout January. The series also includes filmed in Vancouver area Unleashing Mr. Darcy which premieres January 23rd at 9pm.
Love on the Sidelines follows Laurel (Emily Kinney) who becomes the personal assistant of an injured superstar football quarterback named Danny (John Reardon of Continuum, Arctic Air). Laurel's dream job is to be a fashion designer and she knows nothing about football. As a result, Danny is uncertain about having Laurel as his assistant but decides to take a risk and hire her on a temporary basis. Although the two have nothing in common, somewhere along the way opposites attract and they fall in love when they least expect it.
Looks like Emily enjoyed her time here in Vancouver, she tweeted/Instagram'd "Good vides today in Vancouver" the day after arriving for filming prep.
Good vibes today in Vancouver. 🎈💗 https://t.co/YTWbDpwYlm

— Emily Kinney (@emmykinney) October 22, 2015
Love on the Sidelines also features Joe Theismann, a former NFL quarterback for the Washington Redskins. Joe is also well known for his time on ESPN's Sunday Night Football and NFL Monday Night Football.
Here's the official trailer for Love on the Sidelines:

If you're a fan of filmed in BC content, you may spot Haley Sales and Patrick Sabongui in the trailer for Love on the Sidelines. Haley is known for her role as Shelly in Hallmark's TV series Cedar Cove. Patrick plays Captain David Singh on CW's The Flash. Both shows film in the Vancouver area.
See also:
Filming in Vancouver This Week (October 26)
Movies and TV Shows Currently Filming in Vancouver