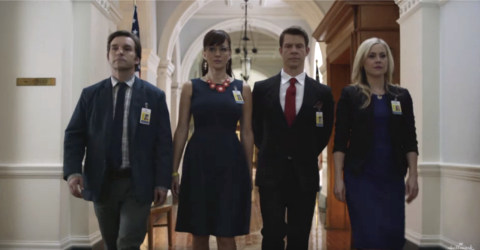 It's a busy week for Hallmark movies filming in Vancouver with Signed Sealed Delivered 5 & 6, The Convenient Groom, and The Wedding March all beginning production. Netflix series Haters Back Off and indie feature Incursion also begin filming this week.
Signed Sealed Delivered 5 & 6 (TV Movie)
In February of this year, Hallmark announced that it had greenlit 4 more movies in the Signed Sealed Delivered franchise created by Martha Williamson. The first of which, Signed Sealed Delivered: From the Heart, premiered later in February after filming in Britannia Beach and the Vancouver area in December of last year. The next two movies in the series are set to film simultaneously starting this week through May 30th. The series follows a group of "POstables" (postal workers) as they take on the role of detectives. Their goal is to uncover the mysteries behind letters and packages that were never delivered and get them to their final destination. Notable cast includes Eric Mabius (Ugly Betty), Kristin Booth (Orphan Black), Crystal Lowe (Smallville) and Geoff Gustafson (Primeval: New World).
The Convenient Groom (TV Movie)
The Convenient Groom is a Hallmark movie adaptation of the popular book of the same name written by Denise Hunter. Set in the Northeastern United States town of Nantucket, the story follows Kate Lawrence, a celebrity marriage counsellor and author of a best-selling book about Finding Mr. Right. Ironically, her own wedding is jeopardized and her career put at risk when her fiancée doesn't show up for the big day. A "Convenient Groom" offers to take the place of her missing husband and Kate reluctantly agrees. The Convenient Groom will be filming in Vancouver and British Columbia until May 4th.
The Wedding March (TV Movie)
The Wedding March is an upcoming Hallmark movie starring Josie Bissett (The Secret Life of the American Teenager) and Jack Wagner (The Bold and the Beautiful). If you watched TV in the 90s, you may also recognize both of them from Melrose Place with Josie playing Jane Andrews Mancini and Jack playing Dr. Peter Burns. Jack is no stranger to filming in British Columbia having appeared in several episodes of Hallmark's hit series When Calls the Heart over the last couple of years. The Wedding March will be filming in Vancouver and British Columbia until May 6th.
Haters Back Off (TV Series)
The hugely popular YouTube personality "Miranda Sings" is set to star in Haters Back Off, an original series from Netflix. Miranda is a character created and portrayed by Colleen Evans. Check out our full article on Haters Back Off for more details. Haters Back Off is scheduled to film in Vancouver and area until May 30th and will premiere on Netflix later this year.
For a full list of everything that's filming in Vancouver and British Columbia right now, check out our In Production page.
Wrapping Up This Week
The Flash – Season 2 (TV Series) with Grant Gustin, Candice Patton, Danielle Panabaker, Carlos Valdes, Tom Cavanagh, Jesse L. Martin, Shantel VanSanten, Teddy Sears was originally scheduled to wrap on April 17th but was later extended to April 19th
Arrow – Season 4 (TV Series) with Stephen Amell, Katie Cassidy, David Ramsey, Willa Holland, Paul Blackthorne, Emily Bett Rickards and John Barrowman wraps up on April 20th
Supernatural – Season 11 (TV Series) Jared Padalecki, Jensen Ackles and Misha Collins wraps up on April 20th
Residue (Feature) with Elysia Rotaru, Taylor Hickson, Matt Frewer, William B. Davis, Costas Mandylor, James Clayton, Jason Burkart wraps up on April 20th
Stop the Wedding (TV Movie) wraps up April 20th
Race Through New York Starring Jimmy Fallon aka Project 727 (TV Presentation) wraps up April 22nd
The Last Christmas (TV Movie) with Jill Wagner, Chelsea Reist, and P. Lynn Johnson wraps up on April 22nd
Aurora Teagarden 4: The Julius House (TV Movie) with Candace Cameron Bure, Stephanie Bennett wraps up April 23rd
If you see any of these productions, including Signed Sealed Delivered filming in Vancouver and British Columbia, be sure to let us know by tweeting us (@WhatsFilming) or via our Submit a Location page.