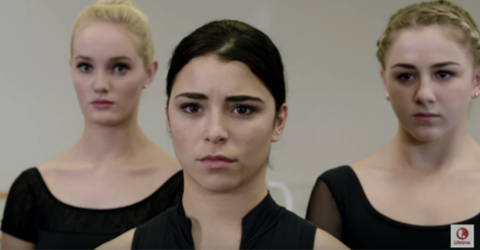 Center Stage On Pointe with Nicole Muñoz, which filmed in Vancouver and area last fall, premieres June 25th at 8pm on Lifetime. Check out the official trailer below.
Center Stage On Pointe is the next chapter in the widely popular dance franchise that was first created by Carol Heikkinen in 2000. The original movie was about a group of teenagers who face adversity while attending the American Ballet Academy in New York as they look to make it big. In the 2008 follow up, Center Stage Turn It Up, self taught dancer Kate Parker (Rachele Brooke Smith) left her home in Detroit to pursue her dreams and audition for the American Ballet Academy.
This time around the story follows Kate's younger sister Bella. Now an aspiring dancer, Bella gets her chance to make it big while attending a dance camp. Rachele Brooke Smith and Vancouver's own Nicole Muñoz will both return to reprise their roles as Kate and Bella respectively. Nicole is known for her roles in Defiance, Fantastic 4 and Once Upon a Time. Peter Gallagher also returns to his role as the highly respected choreographer Jonathan Reeves, who runs the dance camp that Bella attends. You'll probably recognize Peter as Sandy Cohen from The O.C.
Center Stage On Pointe also features up and coming teen dance star Chloe Lukasiak as Gwen. Chloe is best known for the TV series Dance Moms, but has won several competitions all over the US.
Center Stage: On Pointe Official Trailer
Center Stage On Pointe Cast
Here's a full roundup of the cast according to the movie's IMDb page.
| Actor | Role | You may know them from |
| --- | --- | --- |
| Nicole Muñoz | Bella Defiance | Defiance, Fantastic 4, Once Upon a Time, Center Stage: Turn It Up |
| Chloe Lukasiak | Gwen | Dance Moms |
| Peter Gallagher | Jonathan Reeves | The O.C., American Beauty, Law & Order: Special Victims Unit |
| Rachele Brooke Smith | Kate Parker | Center Stage: Turn It Up, Iron Man, Scream Queens |
| Kenny Wormald | Tommy | Center Stage: Turn It Up, Footloose |
| Sascha Radetsky | Charlie | Center Stage, Flesh and Bone |
| Ethan Stiefel | Cooper | Center Stage, Center Stage: Turn It Up |
| Tara Wilson | Yoga Instructor | The Butterfly Effect, Cedar Cove |
| Kyal Legend | Candie | Backstage, Reign |
| Lanie McAuley | Wendy | The Unauthorized Melrose Place Story, Scarecrow |
| Ian Thompson | Bus Driver | X-Men 2, Psych, Sucker Punch |
| Maude Green | Allegra | |
| Thomas L. Colford | Richard | |
| Kane Nelson | Sam | |
| Barton Cowperthwaite | Damon | |
Center Stage On Pointe Filming Locations
Center Stage: On Pointe filmed in Squamish, Maple Ridge, Langley, Surrey, New Westminster and Vancouver during its time in British Columbia. A couple of the locations they used were Ovaltine Cafe in Vancouver, Bell Theatre in Surrey and Anvil Centre in New Westminster.
See also:
Movies and TV Shows Currently Filming in Vancouver
You can catch Center Stage On Pointe when it premieres on Lifetime June 25th at 8pm in Canada and the US.