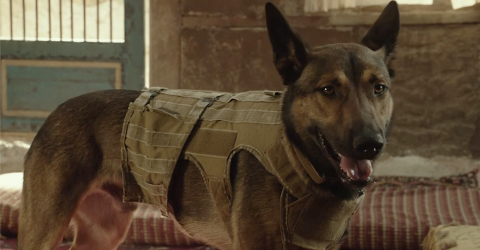 This week, Max 2: White House Hero, The Hooligan Squad and Status Update start filming in Vancouver and British Columbia.
Max 2: White House Hero (Feature)
A follow up to the 2015 movie about a military dog, named Max, who was adopted by the family of his handler who died in the line of duty in Afghanistan. The cast of the original Max movie included Robbie Amell (The Flash) and Thomas Haden Church (Crash Pad, Spider-Man 3). Lochlyn Munro (White Chicks, Riverdale) will play the President of the US and Carrie Genzel (Watchmen, Hearts of Spring) will play the First Lady. Brian Levant (Jingle All the Way, The Flinstones, The Spy Next Door) is directing the film.
Check out the official trailer for the first film here:

Max 2: White House Hero will be filming in Vancouver and British Columbia until July 13th.
The Hooligan Squad (TV Pilot)
In 2014, Aaron McGruder (creator of The Boondocks and Black Jesus), signed a development deal with the Adult Swim network. The deal included a pilot called Hooligan Squad which is finally set to begin filming later this week. McGruder, who wrote the pilot is also set to direct. The live-action story is set a few years from now in San Francisco and follows an American uprising in the city which is now being run by the Japanese. Hooligan Squad will be filming at The Ellis Building (1024 Main Street, Vancouver) on June 20th and they're scheduled to wrap up on June 23rd.
Status Update (aka Refresh) (Feature)
Production kicked off Monday in Gastown for Jason Filardi's high school comedy Status Update. The story centres around Kyle Moore, a new kid at his high school who is struggling to fit in until he discovers a social media app that turns everything he posts into reality. Kyle is played by Disney's Austin & Alley star Ross Lynch. He's joined by Olivia Holt (Kickin' It, I Didn't Do It), Courtney Eaton (Mad Max: Fury Road) and Gregg Sulkin (Faking It, Wizards of Waverly Place). Status Update will be filming in Vancouver and area until July 15th. Check out our full article about Status Update here.
Also Starting This Week
Relevant (TV Movie)
A Hallmark movie with pop star turned Broadway star Debbie Gibson
Filming until June 30th
The Murderer Upstairs (TV Movie)
Filming until June 30th
Woman of the House (TV Movie)
Filming until July 5th
For a full list of everything that's filming in Vancouver and British Columbia right now, check out our In Production page.
Wrapping Up This Week
If you see any of these productions, including Max 2 filming in Vancouver and British Columbia, be sure to let us know by tweeting us (@WhatsFilming) or via our Submit a Location page.