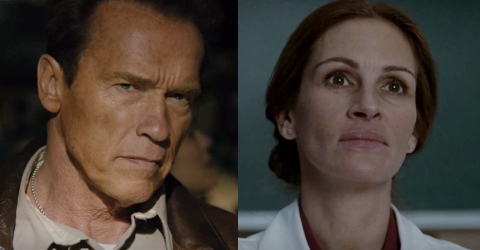 This week 2 new features 'Why We're Killing Gunther' with Arnold Schwarzenegger and Cobie Smulders and 'Wonder' with Julia Roberts, Owen Wilson and Jacob Tremblay start filming in Vancouver and British Columbia.
.
Why We're Killing Gunther
Arnold Schwarzenegger (Terminator) will be in town to play Gunther, a legendary assassin who's full of himself. A group of rival assassins from around the world team up and devise the perfect plan to to take Gunther down. Little do they know, Gunther is actually one step ahead of them the entire time.
Schwarzenegger will be joined by Vancouver's own Cobie Smulders. Cobie saw her first huge success with her portrayal of Robin Scherbatsky in all 9 seasons of How I Met Your Mother alongside Neil Patrick Harris (who's also in town). Since then, she's played Maria Hill in Marvel's Captain America: The Winter Soldier, Avengers: Age of Ultron and Agents of S.H.I.E.L.D.
Cobie's husband, Saturday Night Live star Taran Killam, wrote the script and will be making his directorial debut with the film. He's also set to play the role of Blake. Other notable cast includes Kumail Nanjiani (Silicon Valley), Bobby Moynihan (SNL), Ryan Gaul (Identity Thief), Paul Brittain (SNL) and Vancouver-based actress Elizabeth Bowen. Elizabeth has appeared in many local productions including Wayward Pines, Boundaries and Project MC2.
Why We're Killing Gunther will be filming in Vancouver and British Columbia until August 22nd and is expected to be released some time in 2017.
Wonder (aka Washer)
Vancouver's own young breakout star Jacob Tremblay stars alongside Julia Roberts (Pretty Woman) and Owen Wilson (Wedding Crashers) in Wonder. Tremblay got his start with an appearance on Motive, but has been involved in many projects since then including 2015 movie Room and the recently filmed in Vancouver movie Boundaries with Vera Farmiga.
Wonder is an adaptation of the 2012 book of the same name written by R.J. Palacio. It's about a young boy named Auggie Pullman, who is portrayed by Tremblay in the movie. Going to school can be a terrifying time for any child; let alone one who was brought into this world with a birth defect. After being sheltered from the real world through homeschooling, Auggie is enrolled in school for grade 5. It is there, at Beecher Prep private school, where he's quickly immersed in the unfortunate reality of bullying.
Julia Roberts and Owen Wilson will play Isabel and Nate, who are Auggie's mother and father. Daveed Diggs plays Auggie's teacher, Mr. Browne. Diggs recently played Marquis de Lafayette in the popular Broadway production of Hamilton. This will be his first venture on the big screen.
Wonder will be filming in Vancouver and British Columbia until September 13th and is expected to be released on April 7th, 2017.
If you see Wonder or Why We're Killing Gunther filming in Vancouver and British Columbia, be sure to let us know by tweeting us (@WhatsFilming) or via our Submit a Location page.