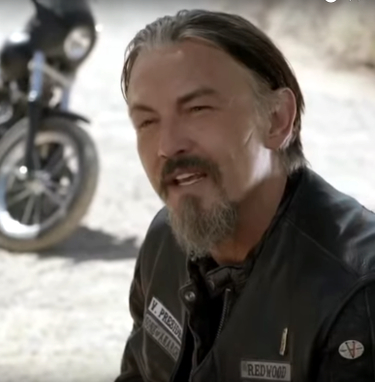 Tommy Flanagan who portrayed Filip 'Chibs' Telford on the hit TV series Sons of Anarchy is in Vancouver for a role in CTV's crime procedural 'Motive'.
After an intense season 3 finale, it looks like season 4 of Motive is shaping up to be just as exciting. Back in October, Senior Vice President of Independent Production at Bell Media, Corrie Coe, stated in a press release that the network is "excited by the new direction the series is set to take". At that time, guest stars Victor Zinck Jr. (The 100) and Karen LeBlank (Cracked) were also announced.
Tommy Flanagan is expected to appear mid-way through Season 4 of Motive and will have a recurring role through the remainder of season. No word yet on what role we can expect to see Tommy play, but with him likely appearing in around 5 episodes it makes me wonder if it will be an antagonist similar to Neville Montgomery (who was played by Victor Garber of The Flash). After seeing Tommy portray a bad guy so well in his appearance on Gotham as Tom the Knife, I could definitely see it. Either way, the introduction of Tommy Flanagan to the show is sure to further enhance the ratings and will likely introduce a large audience of his loyal fans to Motive.
In addition to CTV, Motive originally aired on the ABC network in the United States for its first 2 seasons. Although it was well received here in Canada, the show didn't see as much success in the US and as a result, ABC opted not to bring it back for a 3rd season. Popularity continued here in Canada with season 3 being its most watched to date (in the Adults 18-34 demographic) and among the top 3 most-watched Canadian dramas overall. This success prompted CTV to renew the series for a 4th season before the season 3 finale aired.
In addition to being widely popular in the ratings department, Motive doesn't shy away from the online streaming venue either. In an effort to help promote Bell Media's digital effort, CraveTV, all season 3 episodes were made available to stream through the service 1 day before airing on TV.
Motive also had 21 nominations and won in 5 categories at this year's Leo Awards:
Best Dramatic Series
Best Direction in a Dramatic Series
Best Screenwriting in a Dramatic Series
Best Picture Editing in a Dramatic Series
Best Lead Performance by a Male in a Dramatic Series (Louis Ferreira)
See also:
Movies and TV Shows Currently Filming in Vancouver
Movies and TV Shows That Start Filming in Vancouver Soon
With everything we've read so far, it looks like the new season of Motive will not disappoint either and I can't wait until it premieres. Cameras started rolling on Motive's 13 episode season on September 21st and is scheduled to continue filming in Vancouver until February 12. The series is expected to premiere season 4 early in 2016. In the meantime, you can catch up on all past episodes of the show on CraveTV.