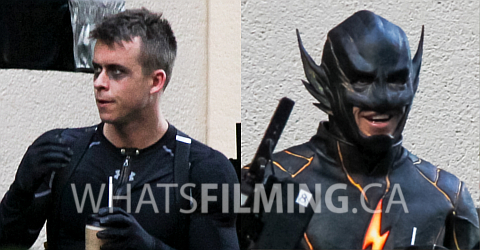 Back in July Vampire Diaries/Spartacus star Todd Lasance was spotted on the set of The Flash sporting a black speedster suit. Since then, there has been lots of speculation as to who this new speedster could be; including the Black Flash and Black Racer. Check out some behind the scenes photos of what we now know is Todd Lasance as The Rival below.
Spoiler Warning! As with all set photos, there's always a possibility that a picture or something we say could be considered a spoiler.
After it was revealed that a new evil speedster called Savitar would be part of The Flash Season 3, many thought this was the character that Todd Lasance had been spotted as while on set in July. However, Executive Producer Greg Berlanti took to Twitter to set the record straight, stating that the role of Savitar has not been cast yet.
For all those tweeting me or elsewhere. We have NOT cast Savitar. Those reports are incorrect. #theflash

— Greg Berlanti (@GBerlanti) August 23, 2016
Later, reports came from TVLine.com that The Flash had cast Todd Lasance as The Rival in Season 3. According to The Flash Wikia, The Rival Flash is also known as Edward Clariss, a criminal and former University professor at the school that Jay Garrick attended. He battled The Flash for months in several of the Justice Society of America comics.
The CW revealed the first official look at Todd Lasance as The Rival during the trailer at Comic Con:

Here's a few behind the scenes photos of Todd Lasance as The Rival (Flash)
Check out this article for more pictures from that day including Keinyan Lonsdale's first public appearance as Kid Flash.
The Flash Season 3 will continue filming until April 21st, 2017 and premieres on Tuesday, October 4th at 8pm on CW in the US and CTV in Canada. If you spot Todd Lasance as The Rival be sure to let us know by tweeting us (@WhatsFilming) or via our Submit a Location page.