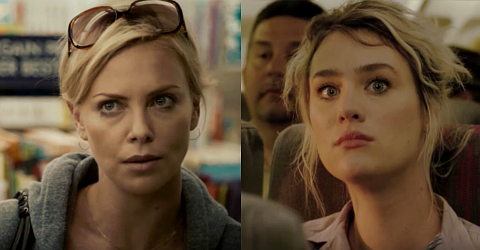 This week Tully with Charlize Theron, Lifetime's Pop Star (aka Britney), MECH-X4 season 2, Escape From Mr. Lemoncello's Library and Runaway Sleigh started filming in Vancouver and British Columbia.
Tully (Feature)
Charlize Theron (Mad Max: Fury Road, Prometheus) and Mackenzie Davis (Halt and Catch Fire, The Martian) star in Tully, a comedy written by Diablo Cody. Montreal-born filmmaker Jason Reitman is set to direct the film. Jason and Diablo first joined forces for Juno, which filmed in Vancouver and area in 2007. The pair were together again for the 2011 movie Young Adult.
In the midst of a difficult time in her life, Marlo (Theron), a mother of 3, is given a nanny (named Tully) as a gift from her brother. After being reluctant to the idea of having a nanny at first, Tully begins to grow on Marlo despite the ups and downs they go through together.
Tully will be filming in Vancouver and British Columbia until November 2nd.
Pop Star (aka Britney) (TV Movie)
Back in August, Lifetime announced the development of a 2-hour TV movie based on the life of Britney Spears. Currently titled Britney, the biopic follows her journey from before the Mickey Mouse Club to becoming an international pop sensation.
The movie will also take a look into her history with Justin Timberlake, the very public struggles she went through following their breakup and the divorce of her parents, the custody battles over her children and her return to success.
Sadly, Britney has confirmed that she will not be involved in the project at all. She'll be portrayed by Natasha Bassett (Hail, Caesar!). Britney's father, James (Jamie) Spears will be played by Matthew Harrison (Chaos, Continuum). Vancouver-based actor Markian Tarasiuk will play Wade Robson, a dance choreographer and one of Britney's ex's. Markian just recently finished up a role in the movie Status Update which filmed in Vancouver this summer.
Pop Star (aka Britney) will be filming in Vancouver and British Columbia until October 14th will be released sometime in 2017 on the Lifetime Channel.
MECH-X4 – Season 2 (TV Series)
Although MECH-X4 season 1 doesn't premiere until November 12th, Disney renewed its live action/CGI sci-fi series for a second season which started filming in Vancouver and area this week. The series stars Nathaniel Potvin as a student at Bay City high school named Ryan Walker. He has a unique ability that allowed him to resurrect and control a massive robot, named MECH-X4. Ryan has to team up with his friends to use the robot to defend their school from destruction.
Also starring are Raymond Cham (Teen Beach 2) who plays Ryan's older brother Mark, Kamran Lucas (Girl Meets World) who plays Harris and Pearce Joza (Lab Rats) who plays Spyder and Alyssa Jirrels (Girl Meets World).
Check out the official trailer for MECH-X4 season 1 here:

MECH-X4 season 1 premieres November 12th on Disney Channel and Disney XD, but an early preview episode will be released online October 28th. Season 2 will be filming in Vancouver and British Columbia until March 14th.
Sleigh Bells Ring (aka Runaway Sleigh) (TV Movie)
Runaway Sleigh is part of Hallmark's Countdown to Christmas 2016 event which includes several other filmed-in-BC movies.
The story follows Laurel who is struggling to find a way to make this year's parade a success despite some recent financial setbacks. Thankfully she meets a farmer who might just have what she needs to get the parade back on track. He gives her an old sleigh, which he says actually came from Santa. Although she doesn't believe him at first, she thinks the sleigh would be great fit for the parade. She finds a renewed belief in both Santa and the holiday spirit after the sleigh leads her to everything she needs to make this Christmas a success.
Sleigh Bells Ring will be filming in British Columbia until October 17th and will premiere December 18th at 8pm on the Hallmark Channel in the US.
RELATED: Countdown to Christmas 2016: Hallmark Movies Filming in Vancouver & British Columbia
Escape From Mr. Lemoncello's Library (TV Movie)
Nickelodeon continues to expand their original TV movie lineup with Escape From Mr. Lemoncello's Library. The movie is an adaptation of the New York Times bestselling children's book of the same name written by Chris Grabenstein. It centres around a group of young students who find themselves locked inside a new, state of the art library in their town as part of a grand opening event. As it turns out, there's more to the library than meets the eye. It's actually the latest creation from legendary gamemaker Luigi Lemoncello. The kids team up for a night of adventure as they find a way to escape the library.
According to Deadline.com, Breanna Yde (School of Rock), Casey Simpson (Nicky, Ricky, Dicky & Dawn), Russell Roberts (The Twilight Saga: New Moon) and newcomers AJ Rivera and Klarke Pipkin have been cast for the movie. They'll be joined by Vancouver-based actors Hannah Cheramy (Van Helsing, Summer Love) and Ty Consiglio (Woody Woodpecker).
Production began in Cloverdale earlier this week after prepping sets in the area for several days. Check out the photos shared by https://twitter.com/Paradeguy:
Lemoncello set dec transforming #cloverdale @yvrshoots @CloverdaleNews @CityofSurrey @creativebcs @pulse1077 pic.twitter.com/QnNddZImrL

— Paul Orazietti (@Paradeguy) September 16, 2016
Escape From Mr. Lemoncello's Library will be filming in British Columbia until October 24th and will premiere on Nickelodeon sometime in 2017.
Also Starting This Week
The Babysitter (TV Movie)
Filming until October 4th
Bundles of Joy (TV Movie)
Filming until October 5th
For a full list of what's filming in Vancouver and British Columbia right now, check out our In Production page.
Wrapping Up This Week
The Man in the High Castle – Season 2 (TV Series) with Alexa Davalos, Rupert Evans, Arnold Chun, Bella Heathcote, Sebastian Roche, Keith Rennie and Tate Donovan wraps up September 22nd
Season's Greetings (TV Movie) with Laura Bell Bundy and Carrie Genzel wraps up filming in Kelowna on September 23rd
If you see any of these productions, including Tully filming in Vancouver and British Columbia, be sure to let us know by tweeting us (@WhatsFilming) or via our Submit a Location page.