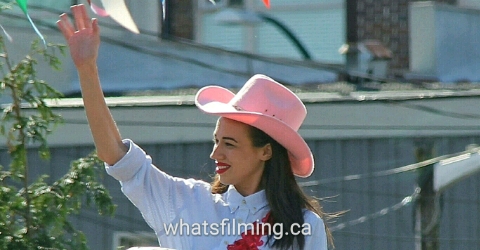 The official trailer for the upcoming Miranda Sings Netflix original series Haters Back Off season 1 has finally been released. Check out the trailer, along with a roundup of the cast and some of the show's Metro Vancouver filming locations below.
Haters Back Off season 1 filmed in Vancouver and British Columbia from April 18th to June 3rd of this year. YouTube star Colleen Ballinger Evans (aka Miranda Sings) developed the scripted series in partnership with her brother (Chris Ballinger), Perry Rein and Gigi McCreery. It's a comical look into Miranda's struggle to become the famous icon she thinks she deserves to be. Colleen originally created the Miranda Sings character for her YouTube account which now has nearly 7 million subscribers and well over 1 billion views.
Haters Back Off Season 1 Cast
In addition to Colleen Ballinger Evans, the Haters Back Off season 1 cast includes Angela Kinsey (The Office, License to Wed) and Steve Little (Eastbound & Down, The Grinder) who play Miranda's mother and uncle respectively. Erik Stocklin (Stalker, Mistresses) plays Patrick, Miranda's neighbour and best friend. Harvey Guillen (The Internship, Chocolate Milk) will appear as the "Fish Store Manager". Harvey was also in Vancouver this summer for a role in the upcoming movie Status Update.
Haters Back Off Season 1 Filming Locations
A lot of the scenes for Haters Back Off, including the interiors of her house, were filmed in studio. Some of public locations that were found during filming included:
Brookswood Secondary School (Langley)
Elgin Street from Shaughnessy to Mary Hill (Port Coquitlam)
Lafflines Comedy Club (New Westminster)
New Westminster City Hall
Private residence near Norgate Elementary School (North Vancouver)
Riverview Hospital (Coquitlam)
Maple Ridge Alliance Church
SuperValu (Port Coquitlam)
Haters Back Off Season 1 Official Trailer
Check out the original teaser trailer here:

Several still photos from Haters Back Off season 1 were released earlier in the month:
#ICYMI 🍦👉 https://t.co/nju2DTMqjq pic.twitter.com/Z5tFE3EtpF

— Haters Back Off (@hatersbackoff) September 2, 2016
RELATED: Haters Back Off Netflix Series From Miranda Sings To Film In Vancouver
Haters Back Off Season 1 will feature 8 x 30 minute episodes that will premiere on Netflix on October 14th.