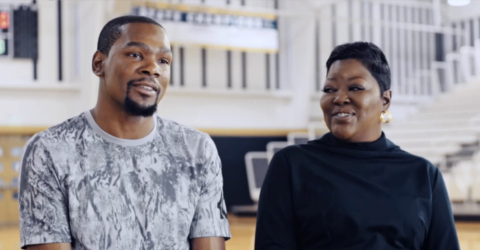 The Real MVP: The Wanda Durant Story, which filmed in Vancouver and British Columbia throughout February will premiere Saturday, May 7th at 8pm on Lifetime. Check out the official trailer and some of their filming locations below.
Wanda Durant (aka Wanda Pratt) is the mother of Kevin Durant, the 2014 NBA Most Valuable Player. The movie's fitting title came from a an emotional speech that Kevin delivered after winning the award. During the speech, he said to his mother "you're the real MVP".
This true story follows Wanda, who despite being a young, single mother, selflessly dedicated her life to ensuring her children reached their full potential. Any parent who has a child in sports will be able to appreciate the story which highlights the sacrifices that Wanda made and tough love she had to give during the course of Kevin's life and career to allow him to follow his dreams.
The script was written by Yolonda Lawrence and Ligiah Villalobos. Nelson George, who is known for Finding the Funk (2013) and Top Five (2014) as well as many documentary-style TV movies served as the director with Queen Latifah's Flavor Unit team executive producing.
The Real MVP official trailer
The Real MVP cast
| Actor | Role | You may know them from |
| --- | --- | --- |
| Cassandra Freeman | Wanda Durant | Inside Man, Single Ladies |
| Tracie Thoms | Wanda's Best Friend | Cold Case, Rent |
| Pauletta Washington | Wanda's Mother | Wilma |
| Daniel Bellomy | Kevin Durant | |
| Nic Few | Tony | Major Crimes |
The Real MVP Filming Locations
Some of the filming locations used in The Real MVP include:
Pacific Coliseum, Vancouver
Riverview Hospital, Coquitlam
The Loden Hotel, Vancouver
First Avenue, downtown Mission
They also spent some time in Langley, Maple Ridge and Abbotsford during production, but we'll have to wait until it airs to see which location specifically. The majority of the post-production for the film was done in the Vancouver area as well.
See also:
Movies and TV Shows Currently Filming in Vancouver
Don't miss The Real MVP: The Wanda Durant Story at 8pm Saturday, May 7th on the Lifetime channel in Canada and the US.