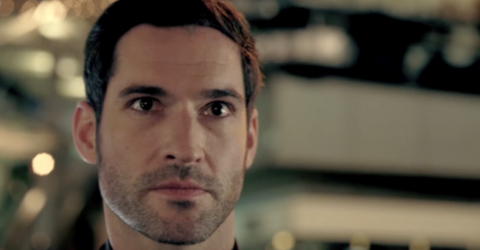 The devil returns as Lucifer Season 2 starts filming in Vancouver and British Columbia this week along with TV movie Infidelity in Suburbia.
Lucifer Season 2 (TV Series)
After being one of Fox's top performing new series during its first season, it was no surprised to see the network give a green light to Lucifer season 2. According to Nielsen Ratings, the series drew an average of 10.5 million viewers throughout the 2015-2016 season.
Like many other shows that film in Vancouver, Lucifer is based on characters that first appeared in the DC Comics Universe. Against his father's wishes, Lucifer (played by Tom Ellis) leaves his duties in Hell behind and moves to Los Angeles. He immerses himself in the true Hollywood lifestyle, the bachelor pad in the hills and even has his own nightclub on the boulevard, aptly named 'LUX' after the production's directional signage used while filming.
Ironically, Lucifer ends up becoming somewhat of a 'good guy' after teaming up with LAPD Detective Chloe Decker (played by Lauren German). The two develop a great on-screen chemistry as they work together to solve some of LA's strange crimes. Lucifer's unique ability to stare deeply into someone's eyes (or soul?) and get them to confess their darkest desires, often leads the pair to the truth behind the case.
But not everyone is happy that Lucifer is in town. Throughout the course of the first season, Lucifer has to deal with his brother Amenadiel (played by D.B. Woodside), his confidant Mazikeen/Maze (played by Lesley-Ann Brandt) and Detective Decker's ex – Dan Espinoza (played by Kevin Alejandro); all of which would rather he return to the depths of Hell… figuratively and literally.
If you haven't seen the show yet, check out a preview of season 1 here:

Spolier Alert: The big question we were left with at the end of the season 1 finale was, who is Lucifer's mom? It sounds like that development will be a large part of the season 2 story arc so it will be interesting to see who is cast in the role. Update: According to Deadline.com, Tricia Helfer (Battlestar Galactica) has signed on to play Lucifer's mom.
Lucifer Season 2 will be filming in Vancouver and area until December 1st and will premiere Monday, September 19th at 9pm ET/PT on Fox in the US and CTV in Canada.
Infidelity in Suburbia (aka A Suburban Affair) (TV Movie)
Infidelity in Suburbia is thriller about a married woman who, in a moment of weakness, allows herself to succumb to the temptation of a handsome and charming young contractor. What she doesn't know is that her decision could end up being a deadly mistake. We haven't seen any official casting announcements for the movie yet, but we'll update this article once new information is available.
The movie will be directed by veteran filmmaker David Winning from Calgary, Alberta. David has a long list of directing credits including Turbo: A Power Rangers Movie, Andromeda, Breaker High, Swamp Devil and Black Swarm. Recently, David has been behind several popular movies for Hallmark which have filmed in British Columbia including Unleashing Mr. Darcy, Tulips in Spring and The Convenient Groom (which aired this past weekend).
Infidelity in Suburbia will be filming in British Columbia until July 7th.
Also Starting This Week
Woody Woodpecker (Home Video)
Filming until July 27th
Summer Intern (TV Movie)
Filming until July 15th
For a full list of everything that's filming in Vancouver and British Columbia right now, check out our In Production page.
Wrapping Up This Week
Death of a Vegas Showgirl (TV Movie) with Fiona Vroom, Arleo Dordar and Aaron Pearl wraps up June 20th
When We Rise (TV Series) with Carrie Preston, Guy Pearce, Mary-Louise Parker, Rachel Griffiths, Alika Autran, Rafael de la Fuente, Michael K. Williams and Ivory Aquino wraps up June 22nd
Finding Father Christmas (TV Movie) with Erin Krakow and Niall Matter wraps up June 23rd
The Hooligan Squad (TV Pilot) wraps up June 23rd
Justice Unleashed (Home Video) with Antonio Cupo wraps up June 23rd
Wayward Pines – Season 2 (TV Series) with Jason Patric, Djimon Hounsou, Josh Helman, Terrence Howard, Tom Stevens, Hope Davis, Megan Fisher, Jason Higgins, Nimrat Kaur, Kacey Rohl, Carla Gugino, Melissa Leo, Charlie Tahan, Toby Jones, Shannyn Sossamon and Tim Griffin wraps up June 24th
The Marine 5: Battleground (Home Video) with Michael Gregory Mizanin (The Miz), Maryse Ouellet, Heath Miller III (Heath Slater), Taylor Michael Rotunda (Bo Dallas), Joseph Curtis Hennig (Curtis Axel), and Trinity Fatu (Naomi) wraps up June 24th
Drone (aka Incursion) (Feature) with Sean Bean, Mary McCormack, Joel David Moore, Patrick Sabongui, Maxwell Haynes wraps up June 25th
If you see any of these productions, including Lucifer season 2 filming in Vancouver and British Columbia, be sure to let us know by tweeting us (@WhatsFilming) or via our Submit a Location page.