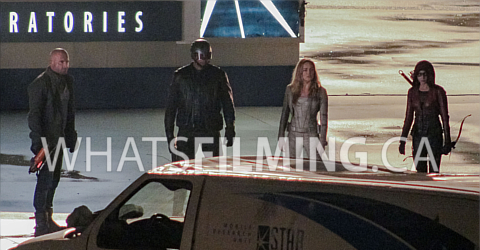 The Flash crossover episode for this week's 4 night event filmed scenes at BC Place in Vancouver in October. Check out 30 behind the scenes photos below.
Spoiler Warning! As with all set photos, there's always a possibility that a picture or something mentioned in this article could be considered a spoiler.
The scenes pictured below took place near gates C and D of Vancouver's BC Place stadium and was the last part of multiple days which were filmed at that location. In real life, BC Place is home of the BC Lions football and Vancouver Whitecaps soccer teams, but is frequently used by The Flash as a stand-in for the exterior S.T.A.R. Labs. Scenes which take place inside S.T.A.R. Labs are filmed at their studio.
Caity Lotz (White Canary), Dominic Purcell (Heatwave), Willa Holland (Speedy) and David Ramsey (Spartan) were all on set. They were joined by The Flash and Green Arrow were also seen in costume but it was only their stand-ins who were there at the time unfortunately.
A few scenes were filmed that night including a dialogue between Speedy and White Canary as well as another scene with White Canary, Heatwave, Speedy and Spartan all facing off against "something". It's unclear whether the "something" was in fact The Dominators, or if it was some other CGI character that would be added in post production. Another scene included Green Arrow and The Flash getting knocked violently to the ground.
Photos of Caity Lotz (White Canary), Dominic Purcell (Heatwave), Willa Holland (Speedy) and David Ramsey (Spartan) filming the Invasion Crossover
These scenes are part of The Flash crossover episode which was directed by Dermott Downs. Although Dermott hasn't directed any episodes in the Arrow-verse, he's no stranger to filming in Vancouver. He directed several episodes of The Tomorrow People which filmed its only season in Vancouver a few years ago.
Check out a sneak peak at The Flash crossover episode that The CW shared earlier today:

RELATED: The Flash Season 3 Episode 5 with Grant Gustin Filming in Vancouver (Photos)
The Flash crossover episode airs tonight at 8pm on CTV in Canada and The CW in the US.