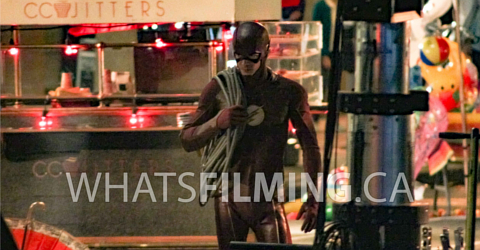 On August 26th, Homer Street in downtown Vancouver was turned into Central City to film scenes for The Flash season 3 episode 5. Check out some behind the scenes photos below.
Spoiler Warning! As with all set photos, there's always a possibility that a picture or something we say could be considered a spoiler.
The Flash season 3 episode 5, titled "Monster", is directed by Vancouver's own Kim Miles. Although this is his first time directing, Kim has served as the Director of Photography for several episodes of both The Flash and Arrow over the last few years. This episode was written by Zack Stentz, who also wrote season 2 episode 21 "The Runaway Dinosaur", which was directed by Kevin Smith.
During the first part of the day, filming took place in the 600 Block of Homer Street just outside of the former Canada Post facility. This is the same block where Supergirl filmed its first public appearance of Tyler Hoechlin as Clark Kent and Superman a few weeks before. It will be interesting to see how CGI and different camera angles will set the two episodes apart to make them appear to be in completely different fictional cities.
A destroyed city bus made to look like it had been crushed by a fallen light post was placed in the middle of the street. Grant Gustin in his Flash suit and Candice Patton were both spotted on set. Here's a great look at the destroyed bus posted by @ThemysciraBound:
@WhatsFilming @VanFlarrowFan @olv Stunt scene for #TheFlash pic.twitter.com/fb8VpPTI19

— WonderWoman (@ThemysciraBound) August 26, 2016
Later in the night, they moved to the 500 block of Homer Street and Vancouver Public Library Plaza. The area was dressed as the "2nd Street Promenade Market" with street vendors, including CC Jitters, lining the sidewalk. During the scene, several extras fled in panic through the street while The Flash arrived, armed with about 100 feet of rope slung over his shoulder. Following this scene, the Central City PD and SWAT team lined the library plaza with guns drawn, pointing high into the air. A pair of SWAT team snipers were also positioned high up on the roof of the library. As the scene began, a cable-suspended camera made its way from the snipers down to the ground level where The Flash was standing. Background performers appeared to be frozen in place suggesting that this scene would involve The Flash speeding around to defeat whatever tall "monster" he was up against.
Photos of The Flash Season 3 Episode 5 with Grant Gustin Filming in Vancouver
Here's some more pics from earlier in day shared by @ThemysciraBound and @VanFlarrowFan:
For you #WestAllen fans! @WhatsFilming @CandicanesU @VanFlarrowFan #TheFlash #TheFlashSeason3 pic.twitter.com/VEaHE631PH

— WonderWoman (@ThemysciraBound) August 27, 2016
More pics I took from today's #TheFlash shoot, featuring Grant Gustin! @WhatsFilming @yvrshoots #yvrshoots pic.twitter.com/wZn461vjqa

— Arrow-Flash (@VanFlarrowFan) August 27, 2016
@ThemysciraBound also captured a cute speedster race between Grant Gustin and Brandon Routh's (Legends of Tomorrow) son Leo:
Are you ready for some serious cuteness?! #TheFlash @WhatsFilming @olv @VanFlarrowFan pic.twitter.com/YIjibPpl0p

— WonderWoman (@ThemysciraBound) August 27, 2016
Checked out the trailer for the episode here:

RELATED: Iris West meets Joe & Cecile with Big Belly Burger: The Flash Season 3 Episode 5 (Photos)
The Flash season 3 premieres Tuesday, October 4th at 8pm on The CW in the US and CTV in Canada. The Flash season 3 episode 5 will air November 1st.