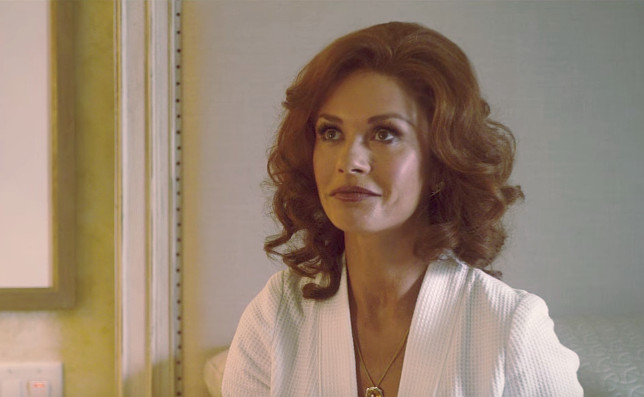 Cocaine Godmother (Lifetime TV Movie)
The Vancouver area seems to be Lifetime's destination of choice when it comes to filming their true crime style original movies. The network has already filmed 3 other movies in this genre in Vancouver so far this year: Menendez: Blood Brothers, I Am Elizabeth Smart and The Lost Wife of Robert Durst which is currently filming.
Their latest to add to the growing list is Cocaine Godmother, a story based on the life of Griselda Blanco, an infamous Miami based drug lord in the 1970s and 80s. During her time in the trade, Blanco earned herself such nicknames as La Madrina, the Black Widow and the Cocaine Godmother; hence the movies title.
In addition to her involvement in the drug world, Blanco was suspected to have played a role in as many as 250 murders according to the Miami Herald. The Cocaine Godmother herself was murdered in 2012 after being deported back to Columbia.
In Cocaine Godmother, Blanco will be portrayed by Catherine Zeta-Jones (Chicago, Ocean's Twelve). Update 6/8: According to Deadline.com, Jenny Pellicer (The Bridge), Raul Mendez (Narcos), Jose Julian (A Better Life), Juan Pablo Espinosa (La Fan) and Warren Christie (The Catch) have also joined the cast.
Thank you @lemon_buzz for the original scoop that Cocaine Godmother would be coming to Vancouver to film!
Cocaine Godmother will continue filming in Vancouver and British Columbia until June 30th and is expected to premiere in 2018 on Lifetime.
Engaging Father Christmas (Hallmark TV Movie)
2017 seems to be the year of sequels for Hallmark. Engaging Father Christmas is the follow up to last year's Finding Father Christmas with When Calls the Heart stars Erin Krakow and Niall Matter. This time around, Ian (Niall Matter), thinks he has orchestrated the 'perfect' Christmas proposal for him and Miranda (Erin Krakow).
While Miranda is doing some investigating into her family roots, she's lead back to Carlton Heath, the small Vermont town where she first met Ian. Of course, Ian has her visit planned to a T, but some unexpected twists may put a damper on his proposal.
The movie also features Wendie Malick and BC's own Aliyah O'Brien (If I Stay, Bates Motel) who played Ellie in Finding Father Christmas. Thank you Premiere Talent Management for the info!
Engaging Father Christmas will continue filming in Vancouver and British Columbia until June 28th. Update: Engaging Father Christmas premieres on November 12th at 9pm on Hallmark Movies and Mysteries channel in the US.
For a full list of what's filming in Vancouver and British Columbia right now, check out our In Production page.
Wrapping Up This Week
Haters Back Off (aka Campbell) – Season 2 (Netflix TV Series) with Colleen Evans (Miranda Sings), Angela Kinsey, Francesca Reale, Erik Stocklin, Steve Little and Frankie J. Grande wraps up June 5th
Game Over, Man! (Feature) with Adam Devine, Anders Holm, Blake Anderson, Jere Burns, Lochlyn Munro, Mark Cuban and Steve-O wraps up June 6th
Better Things – Season 2 (FX TV Series) with Pamela Adlon, Olivia Edward, Mikey Madison, Hannah Alligood and Celia Imrie wraps up June 7th
Countdown to Love (Hallmark TV Movie) with Jen Lilley, Lucie Guest, Jason Cermak, Lee Majors and Lindsay Wagner wraps up June 8th
If you see any of these productions, including the Cocaine Godmother or Engaging Father Christmas filming in Vancouver and British Columbia, be sure to let us know by tweeting us (@WhatsFilming) or via our Submit a Location page.