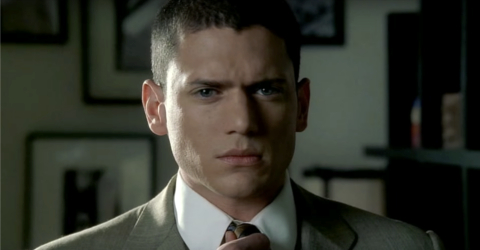 The 9 episode Prison Break Revival series will start filming in Vancouver on April 7, 2016 and premieres in early 2017 on Fox. Check out the official trailer below.
Last summer, Fox officially announced that a Prison Break revival series was in the works. Since then they have only confirmed the return of series leads Dominic Purcell (who plays Lincoln Burrows) and Wentworth Miller (who plays Lincoln's brother Michael Scofield). However, it's rumoured that Sarah Wayne Callies is in talks to return provided scheduling works out in favour. She's currently working on the TV series Colony which films in Los Angeles.
Update: Since this was posted, Sarah Wayne Callies (Sara Tancredi), Amaury Nolasco (Sucre), Robert Knepper (T-Bag), Rockmond Dunbar (T-Bag) and Paul Adelstein (Agent Kellerman) have all signed on to reprise their roles in the Prison Break revival.
New to the series cast that have been recently announced include Augustus Prew (Klondike), Rick Yune (Marco Polo) and Steve Mouzakis (I, Frankenstein).
This will be the show's 5th season. It all started back in 2005 when brothers Michael and Lincoln were imprisoned together at Fox River Penitentiary in Illinois. Michael had an incredibly well laid out master plan to break his brother out of jail before his date on death row. Many plot twists and casualties later led the show to it's final episode in 2009 followed by a standalone TV movie style feature titled "The Final Break".
Following the events in the last couple of episodes and the feature, it will be interesting to see where the story takes the characters. According to Deadline.com, it sounds like this 9 episode arc will be a role reversal from the first season. This time (spoiler alert) Lincoln and crew have to join forces to rescue Michael who is imprisoned in Yemen after faking his own death.
In an interview, Wentworth Miller revealed that the Prison Break revival series will pick up 5 years after the end of season 4. So Michael has been in prison for 5 years? Or on the run for some part of that time and then put in prison? Only time will tell.
Ironically/conveniently, both Dominic Purcell and Wentworth Miller are currently in Vancouver for their series regular roles on DC's Legends of Tomorrow. Legends is scheduled to wrap production on its first season April 1st after nearly 7 months of filming. This gives them virtually no time to enjoy some time off before getting back to work on Prison Break April 7th.
There's a million and one reasons why the production could have chose Vancouver as it's home for the upcoming revival but I'm sure their involvement in Legends of Tomorrow had at least some part in the decision. It was first announced that the series would be coming to Vancouver by @lemon_buzz.
Hopefully we get to see the former mental institution, Riverview Hospital, as a stand-in for some Yemen prison scenes.
Update: As expected, Coquitlam's former mental institution, Riverview Hospital will be used as one of Prison Break's filming locations. Crews were on-site prepping at one of the eerie buildings on April 6th. Riverview is one of the region's most popular filming locations with productions such as Arrow, Bates Motel, Once Upon a Time and many more having used in the past few months alone.
The location is familiar territory for Prison Break stars Wentworth Miller and Dominic Purcell who filmed scenes at Riverview for Legends of Tomorrow's 5th episode "Fail Safe". Ironically, during that episode the mental institution was being used as a prison where the characters had to break out of. This was also the episode where Miller's character, Captain Cold, delivered the clever line "this isn't my first prison break".
Looking for Prison Break 2016 Filming Locations?
Check out our Current Filming Locations page where we post daily locations as they're found/reported for filming in Vancouver and area. For previous filming locations, check out our Filming Location Archive.
Dominic Purcell shared a behind the scenes look at one of the first days of filming the Prison Break revival:
See also:
Legends of Tomorrow Filming at Robson Square with Dominic Purcell and Wentworth Miller (Photos)
For a full list of everything that starts filming in Vancouver soon, check out our Upcoming page.
Check out the Prison Break official trailer below that was released at the Fox Upfronts on May 16th.
The Prison Break revival will be filming in Vancouver and area (with some secondary locations in Morocco) from April 7th to July 5th (dates could change) and will premiere on Fox in early 2017 Tuesday nights at 9pm.