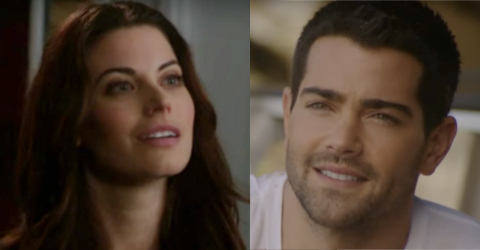 Hallmark's new series Chesapeake Shores Season 1, Hulu TV pilot Crushed, Juggernaut and 2 TV movies start filming in Vancouver and British Columbia this week.
Chesapeake Shores Season 1 (TV Series)
After filming a TV movie that would become its pilot in the Vancouver area throughout last September and October, Hallmark's Chesapeake Shores returns British Columbia to film its first season. Chesapeake Shores is based on a series of novels under the same name that were written by New York Times bestselling author Sherryl Woods.
After living in New York City, Abby O'Brien, a single divorced mother of 2 twins returns to her hometown of Chesapeake Shores. Abby is played Meghan Ory, who you may recognize from her role as Ruby/Red Riding Hood on Once Upon a Time. After returning home, Abby crosses path with her high school sweetheart Trace. Trace is played by Jesse Metcalfe, who just recently finished filming Dead Rising 2 in the Vancouver area earlier this year.
It won't just be a homecoming for Meghan's character. She's returning to familiar territory to film the series, Vancouver Island, where she grew up. About 2 hours North of Meghan's hometown of Victoria, the town of Qualicum Beach will stand in as the beautiful backdrop for the fictitious town of Chesapeake Shores. The town is supposed to be set somewhere in along the Eastern coast of the United States. If this series is able to tap into the success Hallmark has seen with its other filmed in BC scripted series When Calls the Heart, it would be a huge win for the Vancouver Island film industry. The region is coming off its busiest filming year to date.
Chesapeake Shores season 1 is scheduled to film in British Columbia until July 28th and will premiere on Sunday, August 14, 2016 at 9:00pm on Hallmark Channel in the US.
Crushed (TV Pilot)
Crushed is a late addition to this year's pilot season. It was originally scheduled to film in North Carolina but was later moved to Vancouver after a very controversial anti-LGBT law was passed in the state prompting the entertainment industry and other companies to make a statement.
Crushed is a comedy pilot for the US streaming giant Hulu. Set in California's Napa Valley, the story follows a brother and sister who get wrapped up in the personal and business drama involved with running a successful wine business.
Notable cast includes: Regina Hall (Scary Movie Series), Colm Feore (House Of Cards), Alex Kingston (Doctor Who), Jacob Vargas (Sons Of Anarchy) and Bashir Salahuddin (Late Night With Jimmy Fallon).
Crushed is scheduled to film in Vancouver and British Columbia until May 26th.
See also: Vancouver Pilot Season 2016 Roundup
Juggernaut (Feature)
Juggernaut is an indie-feature written and directed by Daniel DiMarco. The story follows an outlaw who returns to his hometown and is determined to prove his mother's death was not a suicide.
Here's a roundup of the cast according to the film's IMDb page:
| Actor | Role | You may know them from |
| --- | --- | --- |
| Amanda Crew | Amelia | Sex Drive, Silicon Valley, The Age of Adaline |
| Stephen McHattie | Hank Sr. | 300, Watchmen |
| Peter McRobbie | Leonard Gamble | Lincoln, The Visit, Spider-Man 2 |
| Jack Kesy | Saxon Gamble | The Strain |
| David Cubitt | Dean Gamble | Van Helsing, Bates Motel |
| Philip Granger | Sheriff | The Killing |
| Jason Diablo | Detective Doolan | Fantastic Four, 2012 |
| Fanny Migneault-Lecavalier | Charlotte Gamble | Amour Amour, Endorphine |
Juggernaut is scheduled to film in British Columbia until June 8th.
Also Starting This Week
December Bride (TV Movie)
Filming until June 3rd
Garage Sale Mystery: The Art of Murder (TV Movie)
Filming until June 6th
For a full list of everything that's filming in Vancouver and British Columbia right now, check out our In Production page.
Wrapping Up This Week
The Solutrean (Feature) with Kodi Smit-McPhee wraps up May 17th
Manny Dearest (TV Movie) wraps up May 21st
If you see any of these productions, including Chesapeake Shores season 1 filming, be sure to let us know by tweeting us (@WhatsFilming) or via our Submit a Location page.