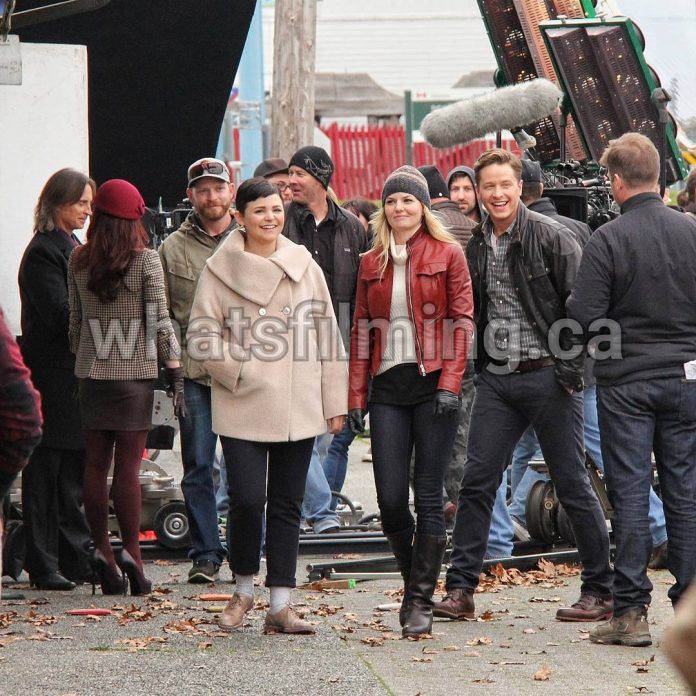 Once Upon a Time Season 7
On May 11th, Once Upon a Time season 7 was announced, but it seems like the show will be heading in a very different direction going forward. Several cast have announced their departures from the show including Ginny Goodwin, Josh Dallas, Jared Gilmore, Emilie de Ravin, Rebecca Mader and Jennifer Morrison. Jennifer mentioned that she will be appearing in one episode during Once Upon a Time season 7. Also according to TVLine.com, Lana Parrilla, Robert Carlyle and Colin O'Donoghue will return to reprise their roles as Regina, Mr. Gold and Killian respectively. They'll be joined by newcomers Andrew J. West (The Walking Dead) and Alison Fernandez (Jane the Virgin).
Renewals and Cancellations
In addition to Once Upon A Time season 7, there was tons of other renewal and cancellation announcements which impact shows filmed in Vancouver. The CW renewed iZombie for a fourth season, but cancelled freshmen series Frequency and No Tomorrow. After previously reducing its episode count, ABC cancelled Imaginary Mary after one season. Perhaps the most interesting news was about NBC's time-travel drama Timeless. After keeping fans on the edge of their seats for months, the network announced it had cancelled the show on May 10th. In a strange turn of events, the decision was reversed and on May 13th it was renewed for a second season which will feature 10 episodes and air sometime in 2018 as per Eric Kripke.
Psych: The Movie
First up, USA Network 'officially' announced the return of Psych to our TV screens. This was actually revealed two months ago by @lemon_buzz. Psych: The Movie sees the return of Shawn Spencer (James Roday), Burton "Gus" Guster (Dulé Hill), Lassiter (Timothy Omundson), Juliet (Maggie Lawson), Henry (Corbin Bernsen) and Chief Vick (Kirsten Nelson). Set during the holidays 3 years after the series finale, the group teams up again after a bad guy starts to target one of their own. Filming is currently scheduled to begin in Vancouver on May 25th and it will premiere on the USA Network in December.
Game Over, Man! First Official Teaser
Netflix released the first look teaser of their action-comedy movie Game, Over Man! which is currently filming in Vancouver. The movie, is described as 'Die Hard in a hotel' and stars Workaholics alums Adam Devine, Blake Anderson and Anders Holm. Game Over, Man! is scheduled to continue filming in Vancouver until June 6th. Read more about Game Over, Man! and check out the teaser HERE.
Disney Descendants 2 Extended Trailer
Disney released a new trailer for Descendants 2, which premieres later this summer. The trailer also includes some behind the scenes footage of a large dance/musical number that was filmed at Hatley Castle on the grounds of Royal Roads University just outside of Victoria. The movie filmed in and around Vancouver last September through October and will premiere July 21st on ABC, Freeform, Lifetime, Disney XD, and Disney Channel. Check out the new trailer and behind the scenes footage here:

Pilot Pickups
It was a big week for this year's Vancouver/BC filmed TV pilots. Kicking off the excitement was ABC announcing the pickups of The Good Doctor with Freddie Highmore (Bates Motel) and The Crossing with Steve Zahn (Dallas Buyers Club) and Sandrine Holt (House of Cards). ABC also shared first look teasers of both shows which can be seen in our 2017 TV Pilot Season article. The next to be picked up was NBC's Reverie with Dennis Haysbert (The Unit, 24) and Sarah Shahi (Person of Interest). Rounding out the pickup hot streak was the CBS tech series Wisdom of the Crowd starring Jeremy Piven (Entourage).
To see a full list of the other pilots filmed/filming in Vancouver and BC this year, check out our 2017 TV Pilot Season Roundup.
Riverdale Season 2 Casting
As previously announced by TVLine.com, Riverdale found itself needing to recast the role of Reggie for season 2 due to scheduling conflicts with actor Ross Butler who has other commitments with 13 Reasons Why. At the time no replacement was announced, but last week TVLine.com revealed that the series had cast Charles Melton (American Horror Story, Glee) as his replacement.
Ross had some kind words to share via a Twitter video he posted following the announcements:
One last little thing… @TheCW @WriterRAS @RapaportCasting @GBerlanti @SarahSoWitty @_MELTON_ @ArchieComics #riverdale #aapi #represent pic.twitter.com/p9KtMEzEQg

— Ross Butler (@RossButler) May 13, 2017

TVLine.com also revealed that Riverdale has promoted Casey Cott, who plays Kevin on the show, to series regular for season 2.
Other News
Production of Amazon's

The Man In The High Castle

season 3 will be delayed by just over a month via DGCBC. New filming dates are June 26th to Nov 28th.

Deadline.com announced that Alana Boden had been cast in Lifetime's I Am Elizabeth Smart which is currently filming in Vancouver and area. She joins Skeet Ulrich (

Riverdale

's FP Jones) and Deirdra Lovejoy (

The Wire

) which was previously pointed out

HERE

.

Isaiah Washington won't be returning as a series regular in season 5 of The 100

via Entertainment Weekly

.
Closing question: Let us know in the comments – will you be watching Once Upon a Time season 7?