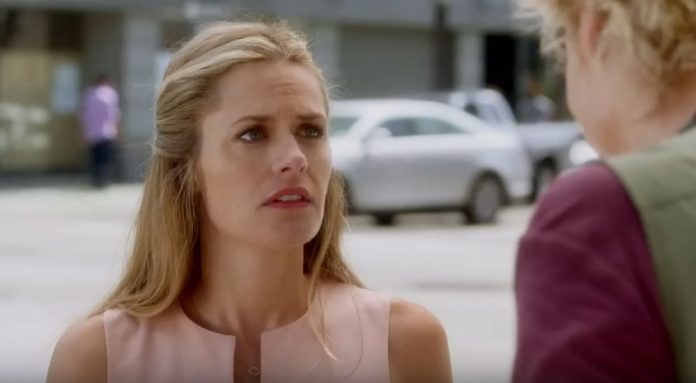 My Favorite Wedding (TV Movie)
Although the new Psych movie doesn't start filming until later this month, Maggie Lawson (who played Juliet in the show) is in town for Hallmark's My Favorite Wedding. The movie is part of Hallmark's June Wedding movie series which features a new wedding themed movie every Saturday throughout June. This year's June Weddings series also includes two other BC-filmed movies: The Wedding March 2, which started filming last week and The Perfect Bride which wrapped up last month.
In My Favorite Wedding, Maggie Lawson portrays an aspiring doctor, Tess Harper. While planning her best friend's wedding, she meets Michael, the groom's best friend who ironically happens to be a divorce lawyer. Although Tess normally doesn't let anything distract her from the task at hand, she's met her match when it comes to Michael.
In addition to Maggie Lawson, My Favorite Wedding will also star Hallmark veteran Paul Greene (Campfire Kiss, A Wish For Christmas).
My Favorite Wedding will be filming in British Columbia until May 19th and will premiere Saturday, June 24th at 9pm on Hallmark Channel in the US.
I Am Elizabeth Smart (TV Movie)
Lifetime is diving into the story of Elizabeth Smart, who was kidnapped from her Salt Lake City, UT home at the age of 14 and abused by her captor for 9 months before she was rescued.
Elizabeth is fully on board for this retelling of her story. She's serving as one of the executive producers and will also narrate the story. I Am Elizabeth Smart is one of several true crime stories that Lifetime has adapted including last year's Who Killed JonBenet Ramsey? which filmed in BC and Who Killed Kathie Durst? which is currently in the works and rumoured to film in Vancouver and area as well.
In addition to Elizabeth Smart, the cast of the movie includes Skeet Ulrich (Riverdale, Scream) and Deirdre Lovejoy (The Wire, The Blacklist). Newcomer Alana Boden (Ride) will portray Elizabeth in the movie according to Deadline.com.
From the below Instagram post by Skeet, it looks like he'll be transforming into the role of Elizabeth's captor Brian David Mitchell.
I Am Elizabeth Smart will be filming in Vancouver and British Columbia until May 29th.
Ghost Wars – Season 1 (TV Series)
Ghost Wars is a new paranormal action series from Syfy that will be filming its 10 episode first season in Vancouver and area until September 11th. Continuum creator and showrunner Simon Barry created Ghost Wars and will be serving as one of the executive producers. Simon is also producing Van Helsing which is currently filming its second season in Vancouver.
Deadline reports that Vincent D'Onofrio (Law & Order: Criminal Intent), Kim Coates (Sons of Anarchy), Avan Jogia (Twisted), Kristin Lehman (Motive) and Meatloaf are among the cast of the show. Kamloops-born actress Elise Gatien (Fifty Shades of Grey, iZombie) has also picked up a series regular role.
It centres around Roman Mercer (Jogia) whose psychic powers could save his small Alaskan town from an evil haunting that will destroy everything. But first, he has to get past his own personal demons and the town's perception of him.
David Von Ancken is currently directing the pilot episode and he'll serve alongside Simon Barry, Chad Oakes, Dennis Heaton and Mike Frislev as executive producer. Vancouver-born actor/director Jason Priestley (90210) and Halifax-born actor/director Leslie Hope (24) are also set to direct episodes. Rachel Langer (This Life), Sonja Bennett (Preggoland) and Karen Lam (Van Helsing), who each from Vancouver as well, are among the writers behind the project.
Thanks to @lemon_buzz for breaking the news that Ghost Wars would be coming to Vancouver to film! Ghost Wars will continue filming season 1 in Vancouver and British Columbia until September 11th and it's expected to premiere later this year on Syfy/Netflix.
For a full list of what's filming in Vancouver and British Columbia right now, check out our In Production page.
Wrapping Up This Week
Project Mc2 – Season 3 (TV Series) with Danica McKellar wraps up May 1st
If you see any of these productions, including the My Favorite Wedding, I Am Elizabeth Smart or Ghost Wars filming in Vancouver and British Columbia, be sure to let us know by tweeting us (@WhatsFilming) or via our Submit a Location page.