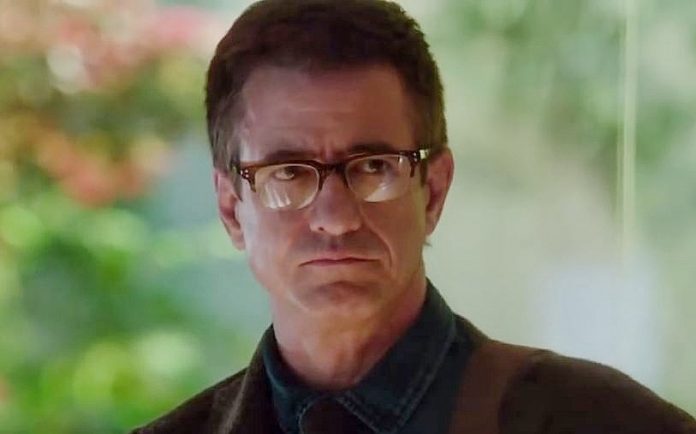 The Christmas Train
Based on the #1 New York Times bestselling book of the same name by David Baldacci, The Christmas Train is a Hallmark Hall of Fame movie set to premiere during the network's ambitious slate of holiday programming later this year.
The story follows Tom Langdon, a 41 year old journalist. Outside of work, Tom doesn't have a whole lot going for him; he's divorced with no kids, no siblings and his father died years ago. His mother, who is the only one he had left, has just passed away from a stroke. During this desperate state, the lowest point in his life, he turns to his ex-wife for help, but she won't even accept his collect call.
Tom sets out on a train trip across the United States, from D.C. to California, just in time for Christmas. His experiences along the way cause him to rekindle a former love and rediscover both himself and the magic of Christmas.
Dermot Mulroney (My Best Friend's Wedding, Pure Genius) is set to star in the movie as Tom. Dermont just recently wrapped up a role on Twentieth Century Fox's big budget feature The Mountain Between Us, which also filmed in British Columbia. He'll be joined by Kimberly Williams-Paisley (Darrow & Darrow, Father of the Bride), Joan Cusack (Shameless, Toy Story 4) and Danny Glover (Lethal Weapon).
Behind the scenes photos shared by the cast during the filming of The Christmas Train
The Christmas Train will continue filming in British Columbia until September 15th and will premiere on November 25th at 8pm on the Hallmark Channel in the US.
A Gift to Remember
A Gift to Remember is based on a novel of the same name from international #1 bestselling author Melissa Hill. The story centres around a woman named Darcy, who has had a passion for books her whole life and now works her dream job at a small book store in New York City. After what may turn out to be fate, Darcy accidentally strikes a man named Adrian while she was biking to work one day. Adrian has to be rushed to a hospital and winds up in a coma as a result of the accident.
Beside herself with grief and guilt, Darcy takes it upon herself to care for the man's dog while he's incapacitated. Along the way she learns that he's actually a writer himself, and she begins to fall in love with the idea of what Adrian may actually be like. What happens when Adrian regains consciousness and meets Darcy and the fictitious persona she's created for him?
Surrey, BC native Alie Liebert is set to play Darcy. Hallmark fans will recognize her from Chesapeake Shores or Autumn in the Vineyard, but she is also known for Bomb Girls, Strange Empire, Ten Days in the Valley and BC-filmed series Mech-X4. She can also be seen in the upcoming movie Wonder, which hits theatres this fall. She'll be joined by Peter Porte (Love at the Shore, Devious Maids) who will play Adrian. Local actors Vincent Dangerfield (When We Rise, The Killing) and Ricky He (Christmas Solo, Looks Like Christmas) will play William and Josh respectively. Calgary, AB actor Mark Milburn will also appear, though his role is unknown at this time.
RELATED: Chesapeake Shores Season 2 Starts Filming on Vancouver Island
Thanks to @AprilBC23, we know that one of the filming locations for A Gift to Remember is Simpson Manor on Glover Road in Fort Langley. The building is normally a nursing home, but for the movie it will likely serve as the hospital where Adrian spends his time during his coma.
@WhatsFilming bring on the fake snow lol pic.twitter.com/ClLc3ffA5o

— April Brown (@AprilBC23) August 19, 2017
Behind the scenes photos shared by the cast and our Twitter followers during the filming of A Gift to Remember
@WhatsFilming what is this xmas thing filming on commercial drive ? pic.twitter.com/TWzPokjpnd

— ian (@shakysnakes) September 5, 2017
@WhatsFilming Filming at 6th and Carnarvon- A Gift to Remember #tvmovie #filming #newwest pic.twitter.com/XbCNnek6lC

— Eric Darryl (@EricDarryl) September 7, 2017
— Jen (@shawnnifer11) September 6, 2017
A Gift to Remember will continue filming in British Columbia until September 9th and will premiere December 2nd at 9pm on Hallmark Movies and Mysteries channel in the US.
Mistletoe Inn
Mistletoe Inn is part of a collection of books written by New York Times bestselling author Richard Paul Evans. The previous book in the series, The Mistletoe Promise, became a Hallmark movie which aired last Christmas after filming in British Columbia earlier in the year.
RELATED: Hallmark's Countdown to Christmas 2016 – Movies Filmed in BC
Mistletoe Inn is centred around Kimberly Rossi, a 32 year-old finance officer at a Lexus car dealership. Although that may be her day job, her real dream is to become a published romance novelist. She has the life experience needed to fit the role too. She's had her heart broken several times, including 2 engagements gone awry, followed by a marriage that eventually ended in divorce.
To avoid spending another Christmas alone, Kim decides to join the "Mistletoe Retreat", a conference where a writer she idolizes will be speaking. While attending the event, she meets a man named Zeke who makes her realize the parallel between her lack of a love life and her writing career that hasn't taken off yet. Together, the pair discover that they need to have vulnerability and passion in order to achieve their dreams; both in their personal lives and careers.
Mistletoe Inn will star Alicia Witt and David Alpay, who will likely play Kim and Zeke respectively. They'll also be joined by Vancouver's own Lucie Guest, who has appeared on Orphan Black, iZombie and Girlfriends' Guide to Divorce. Hallmark fans will know Lucy from Chesapeake Shores and Murder, She Baked: Just Desserts. Lucy will also appear in Josh Duhamel's movie The Buddy Games, which is currently filming in BC as well. Casey Manderson also stars in the movie as Garth, Kim's ex-boyfriend.
Behind the scenes photos shared by the cast during the filming of Mistletoe Promise
Viva Mexico Restaurant on Fraser Highway (Langley)
Original Applewood Motors on Fraser Highway (Langley)
Mistletoe Inn will continue filming in British Columbia until September 8th and will premiere on November 23rd at 8pm on the Hallmark Channel in the US.
If you spot The Christmas Train, A Gift to Remember or Mistletoe Inn filming in British Columbia, be sure to let us know by tweeting us (@WhatsFilming) or via our Submit a Location page.