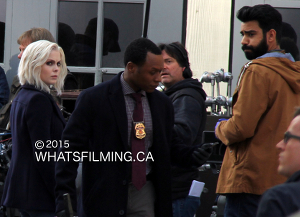 'Tis the season for Christmas-themed TV episodes filming in Vancouver. It's been exciting to see the Holiday Season popping up early around the city. This morning, DC Comics TV series iZombie filming turned the Yaletown Roundhouse plaza into a crime scene surrounded by Christmas decorations. There's something about zombies and Christmas that when combined seems appealing.
Pictured below, Series regulars Rose McIver, Rahul Kohli, and Malcolm Goodwin were on set for the scene today as the trio investigated the latest in suspicious Seattle deaths. It felt a little less 'Christmasy' with a dead body laid out on the ground
Here's some pictures from the iZombie filming today.

Photos appear courtesy of Melissa Kathleen Photography.
See also: The Flash Filming Christmas in Central City.
Although this particular set wasn't quite as elaborate as the one we saw last week for The Flash, iZombie is currently building another Christmas set near Ontario and 3rd – can't wait to see how that one turns out.
The series will be filming in Vancouver and area until December 18th. If you spot it filming be sure to let us know via Twitter (@WhatsFilming), leave a comment below or submit through our Contact Us page.