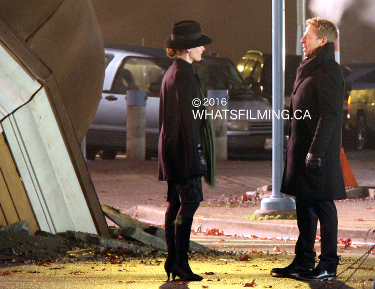 Once Upon a Time returned to Steveston tonight to film more scenes in the Underworld. Check out some photos of the scene below.
The scene's shot today were for episode episode 16 of Once Upon a Time's 5th season. Tonight, we saw a dialogue between the Zelena the Wicked Witch (Rebecca Mader) and Hades the evil dictator of the Underworld (Greg Germann).
The dialogue started confrontationally, with Hades looking like he was passionately trying to make a point to Zelena. As the scene continued, it looked like a different kind of passion began to surface. The two definitely have some chemistry… will be interesting to see how that dynamic plays out. If you have any insight or ideas of where you think that relationship will go, leave a comment below!
In the background of tonight's scene was a familiar clock tower, smashed into the Storybrooke's Main Street in front of the library. Overall the set decoration was nearly the same as the most recent on location Steveston filming the show has been done. Their decoration department always does a beautiful job transforming the town into the Storybrooke we all know and love.
Any time Once Upon a Time filming takes place in Steveston there's always a great turn out of dedicated fans there to watch and support. Tonight was no different, there had to have been around 100 of us there.
Here's some pictures from the Once Upon a Time filming in Steveston tonight:
See also:
Once Upon a Time Filming in Storybrooke Ruins (Photos)
No sign of Hook in the Underworld tonight. We'll have to wait a couple more months to see what's in store for everyone's favourite pirate. After their usual long winter broadcast hiatus, Once Upon a Time returns for the back half of Season 5 on March 6th.