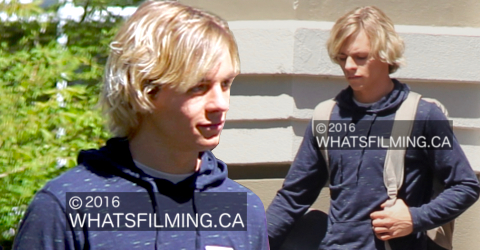 Disney's Teen Beach star Ross Lynch was on set at Lord Byng Secondary School in Vancouver's West Side filming scenes for his upcoming movie Status Update. Check out 21 photos below.
Status Update is a story written by Jason Filardi that centres around Kyle Moore – a new kid at Hayden Senior High School in Connecticut. Kyle struggles to fit in with the other kids until he discovers a social media app that turns everything he posts into reality. Kyle is played by Ross Lynch (Teen Beach, Austin & Alley). The movie started filming in Vancouver on June 13th. Some of the locations so far include: Incendio Restaurant and Alexander Street in Gastown, Deer Lake Park in Burnaby and Britannia Secondary School in East Vancouver.
After filming at Britannia Secondary School for several days, the production moved to Lord Byng Secondary School on Thursday, June 23rd. They filmed scenes inside the school, then returned on Sunday, June 26th to continue outside at the main entrance. While we were there, Ross Lynch and Brec Bassinger (Bella and the Bulldogs), who plays Maxi, filmed a couple of different scenes of them arriving to "Hayden Senior High", and then leaving.
In the first scene we saw, Ross and Brec walked together along the West 16th Avenue sidewalk outside the school towards a school bus. Next was a scene with a camera setup inside the bus as Ross arrived at school, exited the bus and then walked up the stairs at the main entrance and then went inside. After several takes of that scene, they filmed a similar scene with Ross leaving the school from the same entrance.
Photos of Ross Lynch and Brec Bassinger Filming Status Update
If you use these photos elsewhere, please credit us.
Gregg Sulkin (Faking It, Wizards of Waverly Place), Courtney Eaton (Mad Max: Fury Road) and Harvey Guillen (The Internship) were also on set later in the day for some different scenes, you can check out pictures of that here.
See also:
Status Update Movie aka Refresh with Ross Lynch Filming in Vancouver
Status Update with Ross Lynch will continue filming in Vancouver and area until July 15th and is expected to be released in 2017.