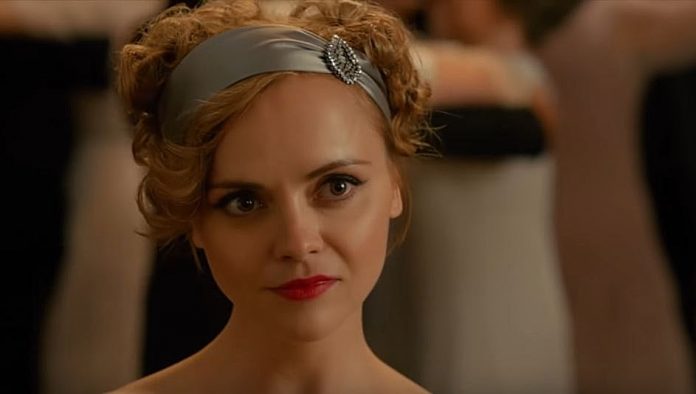 Distorted (aka Distortion) (Feature)
Another high profile feature has chosen the Okanagan as it's filming location. Earlier this year, Anthem and Tiny House of Terror filmed in the area, and last year it saw productions such as Power Rangers, The Humanity Bureau and Drink Slay Love. The latest film to call the Okanagan home is Distorted, which stars Christina Ricci (Sleepy Hollow), John Cusack (Being John Malkovich) and BC's own Brendan Fletcher (The Revenant).
The story, which was written by Arne Olsen, follows a 32 year old woman (Ricci) who suffers from both bipolar disorder and the loss of her child. After being plagued by her own memories and fears for her safety, she and her husband (Fletcher) decide to move into a high tech, high security apartment. After noticing some things out of the ordinary, she begins to suspect that there's more to the building than meets the eye. She enlists the help of an investigative journalist (Cusack) who specializes in cyber conspiracy to uncover what's really going on around them. What they find may have a much more widespread impact than they imagined.
Production kicked off yesterday in Kelowna near the Rotary Centre for the Arts and will film on Lakeshore Road on Tuesday – thank you @cookiekrumbas for the heads up about the article from Global with these details! Distorted will to continue filming in Kelowna, Vernon and area until June 26th and is expected to be released in 2018.
The Wedding March 3: A Valentine Wedding (Hallmark TV Movie)
The sequel to last year's popular Hallmark movie The Wedding March just wrapped up filming in British Columbia a couple of weeks ago and already production of a 3rd follow-up is underway. The original, which premiered during last year's June Weddings event drew a total of 2.3 million viewers, so it was no surprise that Hallmark announced the sequel during the winter TCA Press Tour.
RELATED: The Wedding March 2 Starts Filming in BC
The movies feature former Melrose Place stars Jack Wagner and Josie Bissett as Mick and Olivia respectively. The pair were once college sweethearts who eventually reconnect when Mick finds himself booked to sing at Olivia's wedding.
The Wedding March 3: A Valentine Wedding will continue filming in British Columbia until June 16th. No release date or official storyline have been made available yet, but we'll update this article as soon as we know more.
In the meantime, here's the preview for The Wedding March 2, which premieres Saturday, June 17th at 9pm during this year's June Weddings movie series:

Summer in the Vineyard (Hallmark TV Movie)
Another Hallmark movie sequel starts production this week. Summer in the Vineyard is the follow-up to last year's Autumn in the Vineyard starring Rachael Leigh Cook (She's All That, Perception), Brendan Penny (Motive, Chesapeake Shores) and Marcus Rosner (When Calls the Heart). During it's premiere, the movie drew a total of 2.2 million total viewers, making it the top rated non-sports cable program of the day.
RELATED: Autumn in the Vineyard & Pumpkin Pie Wars from Hallmark's Fall Harvest 2016
During production, Autumn in the Vineyard spent part of its time at Singletree Winery in Abbotsford and around the lower mainland. The rest of its time was spent filming at River Stone Estate Winery in Oliver. The sequel will be returning to film in both Abbotsford and the Okanagan again.
Update 6/1/2017: Writer Julie Sherman Wolfe announced that Rachael Leigh Cook, Brendan Penny and Marcus Rosner will be returning to reprise their roles as Frankie, Nate and Marco for the sequel. They'll also be joined by Tegan Moss (Flashpoint).
Summer in the Vineyard will continue filming in British Columbia until June 20th and is expected to premiere during Hallmark's Summer Nights movie series this summer.
Here's some of filming locations used during Summer in the Vineyard:
2600 Block Montrose Avenue (Abbotsford)
La Punta Norte Bed and Breakfast Guest Inn (Summerland)
River Stone Estate Winery (Oliver)
Main Street and Front Street (Penticton)
Penticton Farmers' Market
Hillside Winery on Naramata Road (Penticton)
Here's some behind the scenes photos shared by the cast and crew during the filming of Summer in the Vineyard:
In the meantime, here's the trailer from Summer in the Vineyard:

And in case you haven't seen it yet, here's the trailer for the original movie Autumn in the Vineyard:

Also Starting This Week
Better Things – Season 2 (FX TV Series, 1 Episode)
Cast: Pamela Adlon, Olivia Edward, Mikey Madison, Hannah Alligood, Celia Imrie
Filming June 1st until June 7th
For a full list of what's filming in Vancouver and British Columbia right now, check out our In Production page.
Wrapping Up This Week
I Am Elizabeth Smart (TV Movie) with Elizabeth Smart, Skeet Ulrich, Deirdre Lovejoy, Alana Boden and Kiefer O'Reilly wraps up May 29th
Van Helsing – Season 2 (TV Series) with Kelly Overton, Alison Wandzura, Jonathan Scarfe and Missy Peregrym wraps up May 31st
The Predator (aka Ollie) (Feature) with Boyd Holbrook, Olivia Munn, Keegan-Michael Key, Trevante Rhodes, Jacob Tremblay, Sterling K. Brown, Alfie Allen, Yvonne Strahovski, Augusto Aguilera, Jake Busey, Edward James Olmos and Thomas Jane wraps up June 2nd
If you see any of these productions, including the Distorted, The Wedding March 3 or Summer in the Vineyard filming in British Columbia, be sure to let us know by tweeting us (@WhatsFilming) or via our Submit a Location page.