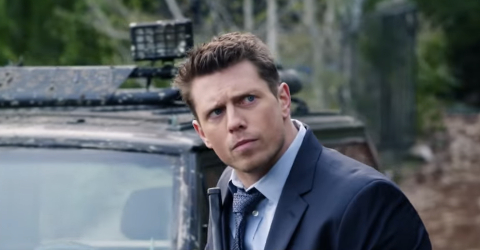 This week, WWE Studios movie The Marine 5: Battleground and Hallmark's Managing Manhattan start filming in Vancouver and British Columbia. Haters Back Off, Boundaries and more wrap up and Prison Break returns from filming in Morocco.
The Marine 5: Battleground (Home Video)
The Marine 5: Battleground is the next installment in the WWE Studios series The Marine which began in 2006. Several well known WWE wrestlers have been featured in lead roles throughout the series including John Cena, Ted DiBiase Jr., The Miz and Summer Rae.
The Miz (aka Michael Mizanin), who appeared in the last two movies in the series returns to reprise his role as Jake Carter in The Marine 5. Jake, now an EMT has to put his former Marine skills back into action as he goes head to head with a violent biker gang in order to protect innocent civilians. In addition to The Miz, WWE stars Maryse Ouellet, Heath Miller III (Heath Slater), Taylor Michael Rotunda (Bo Dallas), Joseph Curtis Hennig (Curtis Axel), and Trinity Fatu (Naomi) have joined the case of The Marine 5.
The last two movies in the series, The Marine: Homefront and The Marine: Moving Target also filmed in British Columbia. Primary locations included Squamish, Maple Ridge and various locations in Vancouver. Check out the trailer from The Marine: Moving Target below.
The Marine 5: Battleground will be filming in Vancouver and area until June 24th.
Managing Manhattan (TV Movie)
Production of Hallmark's romantic comedy Managing Manhattan officially kicked off yesterday in downtown Vancouver at Virani Real Estate (1280 West Pender Street). The story follows Taylor as she adjusts to a new life in New York after being given a once in a lifetime chance to manage a prestigious clothing store.
As Taylor finds herself in over her head with the pressures of running the store and living in the big city, she meets Philip, a single realtor. She struggles to balance her work life and social life while putting everything she's worked so hard to achieve at risk.
Cast announced so far includes Julianna Guill (Girlfriend's Guide to Divorce, Crazy Stupid Love), Marc Bendavid (Dark Matter), Vivica A. Fox (Kill Bill), Natasha Henstridge (She Spies) and Marla Sokoloff (Dude Where's My Car).
Managing Manhattan will be filming in Vancouver and area until June 17th.
Also Starting This Week
Finding Father Christmas (TV Movie)
Filming until June 23rd
Returning From Hiatus
Prison Break is scheduled to resume in Vancouver this week after a brief hiatus the past week. Many of the main cast are filming their on-location Morocco scenes.
Several of the cast shared behind the scenes pics over social media while in Morocco:
C-note is always ready…@PrisonBreak @PBWritersRoom Morocco 2016.. pic.twitter.com/NzPcdGpNNP

— Rockmond Dunbar (@RockmondDunbar) May 28, 2016
Prison Break will continue filming in Vancouver and area until July 5th. For more details about the Prison Break reboot, check out our full article here.
For a full list of everything that's filming in Vancouver and British Columbia right now, check out our In Production page.
Wrapping Up This Week
Haters Back Off (TV Series) with Colleen Evans (Miranda Sings), Angela Kinsey, Steve Little, Erik Stocklin wraps up June 3rd
Never Steady, Never Still (Feature) with Théodore Pellerin and Mary Galloway wraps up June 1st
MECH-X4 (Formerly MTX!) – Season 1 (TV Series) with Nathaniel Potvin, Kamran Lucas, Pearce Joza and Raymond Cham wraps up June 3rd
Signed, Sealed, Delivered 5 & 6 (TV Movie) with Eric Mabius, Kristin Booth, Crystal Lowe and Geoff Gustafson wraps up June 3rd
Boundaries (Feature) with Vera Farmiga, Christopher Plummer, Lewis MacDougall, Christopher Lloyd and Jacob Tremblay wraps up June 3rd
December Bride (TV Movie) wraps up June 3rd
If you see any of these productions, including The Marine 5 filming in Vancouver and British Columbia, be sure to let us know by tweeting us (@WhatsFilming) or via our Submit a Location page.